Tired of job applications that go nowhere? Wondering how to make your unsolicited application letter stand out? You're not alone. A lot of people find the process of applying for jobs frustrating and overwhelming. But don't give up! There are ways to make yourself stand out from the crowd, and submitting an unsolicited application letter is one of them. So check out these seven examples for inspiration, and see if you can't put together your own version that will catch the hiring manager's eye. if you want to learn how to write cover letter continue reading.
In today's world, competition for jobs is intense. So If you want to make sure your resume lands on the top of the pile, you need to do something that will set you apart from all the rest. One way to do this is by sending an unsolicited application letter. This type of letter is not required, but it can help you stand out from other candidates.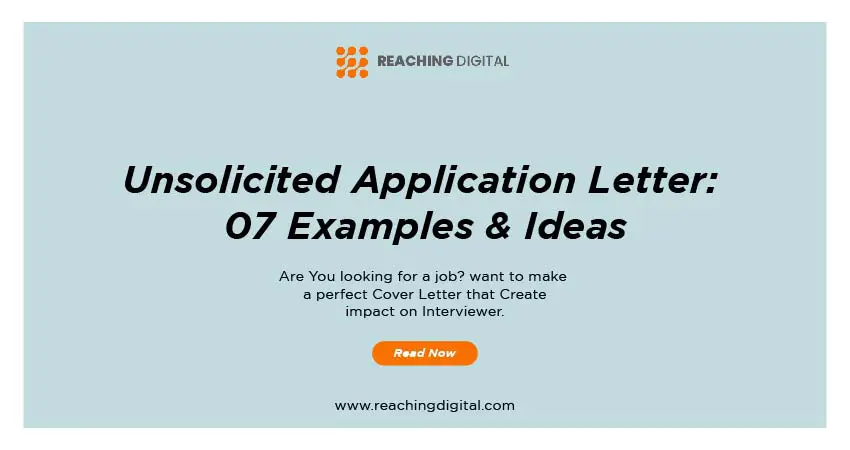 Unsolicited Cover Letter
Dear Sir/Madam,
I would like to take this opportunity to express my interest in working for your company. Recently read an article about how you were considering hiring new staff and would like the opportunity to be considered for one of the positions.
I am a [insert positive trait] recent high school graduate ([insert GPA]) who has been involved with various extracurricular activities ([insert extracurricular activities that interest you]). Throughout my high school career, I have improved my skills in [insert skills] and also have developed my knowledge in [insert relevant coursework]. So If hired by your company, I would bring these attributes with me to the job.
I am very interested in being a part of your team and am excited to discuss further how my qualifications can contribute to the goals of your company. If you have any questions or would like to schedule an interview, please contact me at [PHONE NUMBER]. Thank you for your time and consideration.
Sincerely,
Applicant Name, Email, Address, Contact#
Unsolicited Application Letter Sample
Respected Sir/Madam,
Subject: applying for the post of __________.
I wish to apply for the post of __________ in your esteemed company with reference to your advertisement published in leading daily/magazine on _________date. With the experience that I have garnered during my tenure in my last job, I am convinced that my expertise would be a valuable addition to your company. Therefore I have enclosed my resume with this letter, for favorable consideration of my candidature.
In case you require any clarifications from me, I would be glad to answer all your queries promptly. In case you find my application worthy of your requirements, kindly contact me at the number given below or by email/letter. Hoping to hear from you soon.
Yours sincerely,
Name and signature here
Unsolicited Cover Letter Sample
Hello Sir/Madam,
I am an undergraduate student in (country name). I was looking through your company's website and found that you are hiring qualifications like mine. Would like to apply for the advertised position.
My name is ____ and I am 23 years old. As mentioned on my resume, I have studied Business Management at university. I have graduated with ____ marks out of 100, which gives me an average of ____%. And I consider this qualification to be enough for the advertised position.
I have interest in your company's product/services and would like to learn more about them by working for you. So You can see that my qualifications align perfectly with the requirements of the advertisement.
I would like to discuss your requirements in further detail and am available at (contact number) or via email on (email address). I hope that we will be able meet up soon for a personal interview.
Thank you very much for taking your time to consider my application, and I look forward to hearing from you soon.
Best regards,
Name _______
Contact number __________
Email address ___________
Unsolicited Application Example
Dear Sir,
I am writing to formally submit my application for the Senior Executive Assistant position advertised in today's newspaper. I believe I would be an asset to your company and also it is my account qualifications which lead me to write this letter. Have extensive knowledge of spreadsheets, databases and administrator tools. My communication skills are demonstrated through previous employment in customer support and administration.
I am confident that my work ethic and detailed-oriented nature will ensure the smooth running of your office day today. Was particularly drawn to this position because of the account responsibilities such as scheduling and creating presentations.
I ask for an opportunity to meet with you in order to discuss whether I would be a suitable candidate for this position. And I can be contacted on your preferred number or via email, which is above.
Thank you for your time and consideration in this matter.
Yours sincerely,
Applicant's Name
Unsolicited Job Application Letter
Respected Sir,
With due respect, I wish to submit that I have done my Masters in Science from XYZ College and now want a job. In the enclosed resume, you will find my credentials. As per your advertisement of hiring a graduate for the position of assistant professor, my candidature is respectfully solicited. I would be most grateful if you could kindly consider my application for this post.
I am enclosing herewith two references also, in case you may require them to check my suitability. Obliged if you will give me an appointment at your convenience so that we may meet and discuss matters further. Would be glad to answer any queries that you might have about me. Hoping to hear from you soon.
Your's Faithfully,
Name, Email, Address, Contact#
Example of Unsolicited Application Letter
Dear Sir/Madam,
I am writing in regards to the open Assistant Accountant position posted on your website. I have enclosed my resume with this application letter. Also I enclose a recent photograph, as per your request.
I have recently obtained an Honors degree in Economics from X University therefore I think that my academic record would make me a suitable candidate for the Assistant Accountant position. A strong team player and I also have excellent communication skills.
I would appreciate the opportunity to discuss my suitability for this role in person and look forward to hearing from you.
Sincerely,
Name, Signature
Unsolicited Application Cover Letter
Dear Sir,
I am writing to you to apply for the post of an intern at ____
My reasons for applying are as follows. Firstly, I would like to gain practical work experience so that I am better able to decide what type of work interests me most. My university course is not very well structured and many of my fellow students have found it difficult to pinpoint what they want to do when they leave university. I feel that the experience of working in a real environment is necessary for me.
Secondly, my degree course has given me a good grounding in my subject and I am keen to develop my knowledge and skills further. There are many areas within ____ industry that would allow me to improve on my practical and theoretical knowledge.
Thirdly, I have been a hard-working student with good academic performance throughout my university course. In addition to this, I have shown myself to be an enthusiastic member of staff participating in extra-curricular activities such as sports teams and societies. Finally, I am a good team worker and am able to work effectively both independently and in team settings. These are all skills which I am sure would be useful to you.
I feel that although there are many students applying for internships at ____, my practical experience of university life and a strong sense of commitment make me an ideal candidate. Please find attached a copy of my CV for your reference.
Yours faithfully,
Name:
Email:
Address:
Conclusion
That's it! We hope you found these unsolicited application letter examples helpful and that they gave you some ideas for your own letters. However Now it's time to put your new knowledge into practice. What do you think? So Let us now in the comment section. And, if you need more help writing an amazing cover letter, be sure to check out our other resources or contact us today for expert assistance.