Are you looking for tips and advice on how to write your very own sales associate cover letter? If so, you've come to the right place! Therefore In this blog post, we will provide five different templates you can use to help get started. Also, we'll share some key tips for writing a successful cover letter.
Sales associate cover letters are the doorway to job interviews. Its most important that your letter stands out and shows the employer that you are the best candidate for the position. There are many things to consider when writing a sales associate cover letter, but don't worry, we have Templates ideas to help get you started! So Check out our helpful tips below on how to write a creative cover letter, what to include in your letter and what mistakes to avoid. Then, use one of our professionally written templates as a guide to create your own winning letter. Happy writing!
For More:123+ Best Sales Manager Objective Ideas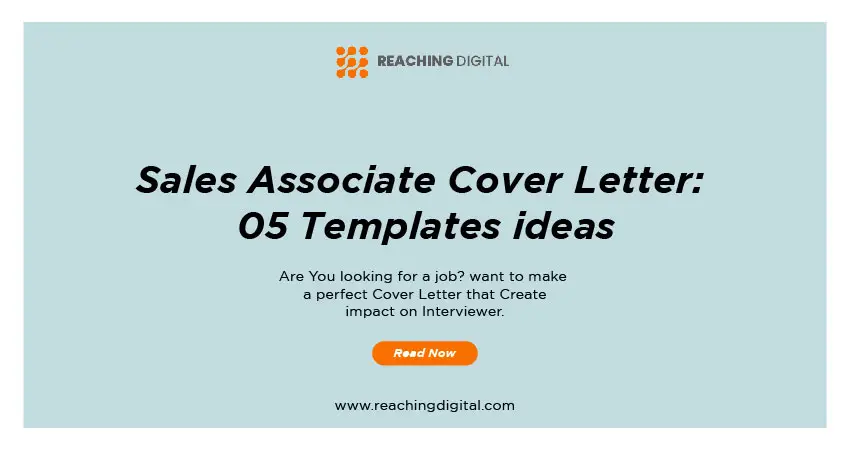 Cover Letter for Sales Associate with no Experience
Dear Sir/Madam,
I am writing with reference to the position advertised in [LOCAL NEWSPAPER] on March 10th. As I can see that your company is currently looking for a sales representative. I am a 25-year-old graduate from [INSERT UNIVERSITY] with a major in marketing and business administration. As part of my program, I completed an internship at [INSERT COMPANY], which has given me valuable experience working as a sales assistant.
I am confident that I have the necessary skills to carry out your responsibilities as a sales associate. As part of my program, Also I had the opportunity to gain experience working as a copywriter at [INSERT COMPANY], which has taught me the skills necessary to communicate with clients and write effective advertising copy for various purposes.
I would be very interested in speaking with you further about this position and feel that my education, experience, and enthusiasm make me a perfect candidate for this job. I would welcome the opportunity to provide you with any further information or answer any questions that you may have.
Thank you for your consideration.
Yours truly,
Name, Email, Address, Contact#
Application Letter for Sales Associate
Dear Sir/Madam,
I have seen this advertisement in the local paper and would like to apply for the position. I am a 22-year-old chemical biology graduate from [INSERT CITY] with a 3.9 GPA in my major. Working in the food industry since high school, and have recently begun managing a small team at [INSERT ESTABLISHMENT]. As a result, I am confident that I have the skills and experience necessary to carry out your responsibilities as an [INSERT INDUSTRY] specialist with this company.
If given the opportunity to interview for this position, you will discover that my diverse background has well-prepared me for any task that may be assigned. I enjoy a fast-paced and challenging work environment and naturally adapt to new and changing conditions easily. My positive and flexible attitude ensures that any problems that may arise are quickly resolved.
I am confident that my education, experience, enthusiasm, and strong work ethic will prove valuable assets in your company. If you have any questions about my application, So please feel free to contact me at any time. Thank you for your consideration.
Sincerely,
Name:
Address:
Email:
Contact#:
Sample Cover Letter for Sales Associate
Dear Sir,
I was very pleased to see the advertisement for a sales associate role at your store. After having seen your range of products, including those in your online store, Therefore I believe that I am well-suited to fill this position. My experience has taught me that consumers like to be catered to individuals rather than seeing items as part of an assembly line. I pride myself on making the customer feel like they are special and important because I believe that everyone deserves to be treats as an individual.
I encourage you to consider me for this position. My enclosed resume contains my previous experience in similar positions, including several years working at major department stores. You can also find reviews from previous employers on this site.
Please feel free to contact me at your earliest convenience regarding any questions you may have about my candidacy. Thank you for taking the time to review my application, and I look forward to hearing from you soon.
Best regards,
Your Name & Contact Info
Cover Letter Examples Sales Associate
Respected Sir,
I hope you're doing well and thank you for your time today. I received a couple of samples of your product and was fascinates by its quality and workmanship. So I'm thinking about purchasing several units in the near future. However, before I do so, I thought it would be prudent to get some more information such as warranty and installation guidelines.
I'm a sales associate in the department of customer service and I have extensive experience in this field. I hope you find my resume appropriate and allow me to take your customers under my wing.
Kind regards,
Name:
Email:
Contact info:
Covering Letter for a Sales Assistant
Dear HR Manager,
I am hoping to find a position with your company as a sales associate. I believe that my experience and skills will help me fit in well with your brand. Therefore I have attached my resume so you can better assess my candidacy for this role. I would be more than happy to answer any questions or set up an interview time at your convenience, Thank you for your time and consideration.
Sincerely,
Name
Address
Phone number
Email address
Conclusion
We hope you've found this guide to be helpful. If so, feel free to share it with your friends and family! Don't forget that we have other resources on our blog as well as a Facebook page where you can find more tips for job seekers. So With the help of these templates, you should be able to craft an effective cover letter in no time at all. Whether or not they are currently hiring, don't hesitate to send them a message anyway – who knows? They might need someone like you soon enough! Good luck out there and best wishes from all of us here at Cover Letter Templates Blog 🙂