Cover letter for assistant professor positions can be tricky to write. Therefore this post aims to provide five example ideas to help get you started on yours. While it is important to tailor each letter specifically to the position and institution you are applying to, these general ideas can help you get started. Because Each letter should be around four paragraphs long, and should include an introduction, three key strengths or selling points, and a closing statement. Happy writing!
Assistant professorships are highly competitive, and it is important to submit a well-crafted application if you want to be considered for the role. The cover letter is a key part of your application, and its most important to make sure that it is strong and engaging. In this blog post, we will provide Covering Letter for Assistant Professor ideas and also how to write a perfect cover letter. So We hope that these examples will help you create a letter that will stand out from the competition. Good luck!
Covering letters for assistant professor positions vary drastically depending on your field of expertise and the department you are applying to within that field. However, there are a few key things all cover letters have in common: they must be tailored specifically to the position and institution you're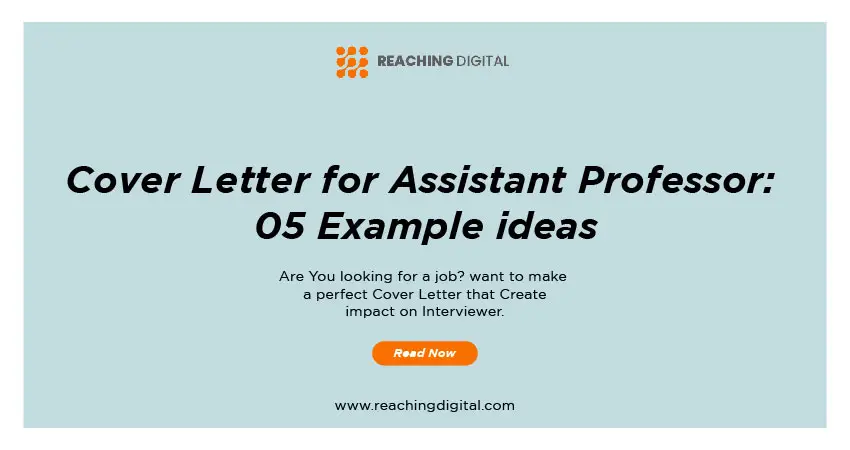 Sample Application Letter for the Post of Assistant Professor
Dear Sir/Madam,
Please find attached my CV that is self-explanatory. I have enclosed a letter of introduction, explaining how my experience is suited to your vacant position in your department.
Attached also are two reference letters from former employers who can attest to my character and capabilities as an assistant professor at __________ University. I enclose copies of the certificates that relate to my experience and abilities that will be helpful for the assessment of my application.
I am looking forward to discussing this position with you further, should I be successful in gaining an interview.
Yours sincerely,
Name:
Email:
Contact#:
Address:
Application Letter for Assistant Professor
Dear Sir,
I would like to apply for the Assistant Professor post in your esteemed organization. As per the advertisement, So I have acquired all the skills that are essential for this position. My experience of working as a Computer Science Engineer will be beneficial for this role. Therefore I have enclosed my CV for your kind perusal, hope you will find it satisfactory.
I would like to briefly introduce myself. I am a graduate of Computer Science and Technology from ______ College. After that I worked in company XYZ for three years as a Software Engineer where I handled all the responsibilities related to this post including but not limited to the following:
I look forward to a personal interview as I am quite confident of your organization and believe that this will be the place where I can excel. So Please do feel free to contact me at my personal email _______. Thank you for your time and consideration. My very best wishes,
Yours Truly,
Name, Email & Contact info
For More: Teacher Cover Letter:10 Examples & Sample Included
Cover Letter for Assistant Professor job
Respected Sir,
I am writing this letter to convey my interest in the Assistant Professor position at the Social Sciences Department of UCL. The advertisement for the position you had published in Daily Times caught my attention and I believe that I can be a suitable candidate because of my qualifications, experience and skills sets.
I possess MSc in Sociology from the University of (Country) and an MPhil from the London School of Economics and Political Science (LSE). I am currently a Ph.D. Candidate at the University of (Country).
I believe that my experience, expertise, and skills can be of immense help to me in fulfilling the duties required. My work with the Institute of Business Administration, (Country) as an Assistant Professor has exposed me to social science research and hands-on management experience. I have also published papers in international journals including the LSE Review of Books, Policy Perspectives, Journal of Asian Public Policy, Economic Development, and Cultural Change, etc.
I am confident that my qualifications and experience will be a good fit with the position advertised by you to fill Assistant Professor positions in your department. Thank you.
Best Regards,
Name & Email
Cover Letter for the post of Assistant Professor
Respected Sir,
I take the liberty of writing this letter to introduce myself as an earnest seeker of your esteemed organization. My name is (NAME) and I am holding Master's Degree in (UNIVERSITY) from Institute of Education, University of London, UK. Currently, I am working as a scientist at (NAME OF INSTITUTE) and awaiting my promotion. I am seeking for your support in the capacity of (POSITION DESIRED) in (NAME OF UNIVERSITY).
I enclose my updated resume, which outlines my educational background along with relevant experience and exposures so far. Moreover, I also have enclosed an assignment on (TOPIC), which will serve as an evidence of my knowledge and skills to (discipline). I have been selected as a member of many committees, which involved research on (TOPIC) over the past several years. I also had the privilege to teach undergraduate students during my tenure at Institute of Education, University of London.
In addition, I have worked as a teacher, coordinator and mentor in different schools during my summer vacations. My long-term goal is to develop myself into an expert researcher in the (TOPIC) area. Also I am confident that your organization will be able to provide me with the necessary resources and exposure, which would help me grow professionally.
I would like to know more about the organization and my potential at (org name), which will encourage me to pursue this opportunity further. Would be pleased if you could spare a few minutes of your valuable time for an interview. Please feel free to contact me by (PHONE NUMBER & E-MAIL ID). Looking forward to a positive response. Thanking You,
Yours faithfully,
(NAME) (POSITION DESIRED) Candidate. (PHONE NUMBER & E-MAIL ID).
Faculty Position cover letter for Assistant Professor
Dear Sir,
I am writing to you from [NAME OF UNIVERSITY] on [DATE TWO WEEKS FROM THIS DATE]. I wish to apply for the [POSITION TITLE] position. In this letter, I will explain why I would be a good match for the job and outline my experience in detail. I am a recent graduate of [NAME OF UNIVERSITY] where I graduated with a GPA of [NUMBER]. The courses I studied included the following:
First Year Seminar in Sociology
Anthropology for Business Management II
Introduction to Communication Studies
Quantitative Methods II for Business Administration students
Qualitative Methods II for Business Administration students
Introduction to Social Theory
Organizational Behavior
General Organization and Management
Corporate Communication
The courses gave me a good understanding of the discipline of Sociology. Also, I completed two internships at [NAME OF BUSINESS] where I gained experience in Sociology research and analysis. However my excellent written and verbal communication skills, combined with my analytic ability, would make me an asset to this position. Also, I am confident that my organizational skills are strong. Lastly, my problem-solving abilities would help solve problems that may arise.
I am available for an interview at your convenient time and I enclose my CV for your review.
Sincerely,
Name & Contact info
Conclusion
The cover letter is an important document that can make or break your chance of getting a job interview. So It's the first thing potential employers will see, and it's your opportunity to introduce yourself and showcase your skills and qualifications. With so much at stake, it's no wonder many people feel overwhelmed when it comes time to write a Covering Letter for Assistant Professor. But don't worry, we're here to help! Therefore In this blog post, we provide five example ideas for how you can structure your Covering Letter for Assistant Professor. We hope these examples give you a good starting point for writing your own letter. So what do you think? Let us know in the comments section below!