Are you looking for information on how to write a solicited application letter? Are you thinking of applying for a job that's not been advertised? Or, have you seen an open position that you're perfect for but don't know how to go about getting your resume in front of the hiring manager? If so, you've come to the right place. In this blog post, we will provide you with seven samples and examples of what a solicited application letter should look like. We will also provide some tips on how to make your letter stand out from the rest.
Here is where the art of the solicited application letter comes in. A solicited application letter is one that you send to a company in response to a specific job opening, even if the job isn't advertised. It's a great way to get your resume directly into the hands of the person who makes hiring decisions. Wondering how to write perfect Cover letter? We've got 07 samples & examples for you right here!
For More: Unsolicited Application Letter: 07 Examples & Ideas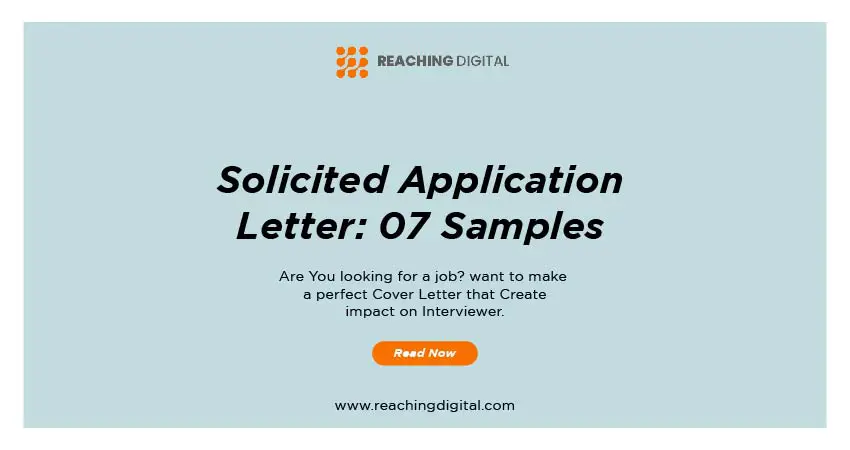 Solicited Cover letter
Dear Sir/Madam,
I am writing to you in the hope of obtaining a position of employment with your company. Also I have recently passed my professional examinations and obtained my qualifications as a <insert level> Certified Financial Planners (CFP). The combination of both theoretical knowledge and practical experience has enabled me to develop an extensive knowledge base that is well rounded, all-encompassing and marketable.
I am confident that I can make a significant contribution to your company's future success through my dedication, determination and commitment. My skills include <insert skills> which will help me to quickly become an effective member of the team.
I look forward to discussing how I can assist you in meeting your goals and objectives.
Kindest regards,
Solicited Application letter sample
Dear Sir/Madam,
My name is (insert name here). I am an (insert age) year old (insert job), who works at (insert company) as (insert current position). Would like to apply for the position of Project Manager.
I have over ten years experience in my industry, with five years gained at my present employer. Also have a great understanding of the industry and I am well versed in all aspects taking on responsibility for (insert number) projects.
I understand what is expected from a Project Manager and I work to tight deadlines with diligence. My greatest strength is my ability to manage staff despite their inexperience, as such I have built up an extensive network over the years.
I am available for interview at your earliest convenience and can be contacted on (insert phone number). I look forward to hearing from you.
Thank you for your time,
Yours sincerely,
Example of Solicited Application letter
Dear Sir/Madam,
My name is (insert name here). I am a recent graduate of Computer Science and I am interested in applying for the position of (insert position name here) at Company X.
I was particularly impresses by your impressive client list, and believe that my skills and expertise would suit Company X well. Also I possess a strong academic record with a degree from University Y in Computer Science, and have gained much experience over the past three years as a (insert position name here) at Company A, and as an intern at Company B.
I am confident that my communication skills, ingenuity and enthusiasm would prove beneficial to your company if I were to be offers the opportunity of employment. Thank you for taking the time to read my letter and CV, and I hope that we may have the chance to discuss my suitability for this position in more detail.
For more information on me and my experience, please have a look at the attached resume. Thank you again for your time, and I hope that we may be able to meet soon.
Yours faithfully,
Solicited Cover Letter Example
Dear Sir,
I am writing this cover letter to complement my resume, which I am enclosing here with. Please go through both documents and help me in getting a job in your company.
As you can see from my resume, I have done some course on photography, mostly related to wedding work. So here are some of the photographs that I have taken, along with the comments of the clients.
Now, I am studying in final year of graduation. During these three years, I have done my best to be well prepare for the future challenges. Here are the copies of some of my certificates. Please note that I can start with an initial basic salary, but after a few months you will realize what an asset I can be for the company.
I believe this shows my level of commitment towards photography and I hope you can consider me for any openings in your company related to photography. Therefore Looking forward to doing my best for your company if given a chance. I will be waiting for your reply.
Thanking You,
Solicited Cover Letter Sample
Dear Sir,
I am aware that your company is currently looking to fill a position for a Marketing Assistant. Since I came across your advertisement in the local newspaper, I feel like my skills and qualifications would be an asset to this business. Most importantly, I believe it's time we met and talked about this opportunity – personally – face-to-face.
I enclose my resume for you to take a look at. I hope we can arrange a meeting soon so that we could discuss this further. I'm looking forward to your response.
When you receive this letter, I would appreciate it if you could set up a time to meet with me about my interest in this position. In the meantime, please feel free to contact me at 555-555-5555 or via email at [email protected]. Whether you reach me by phone or email, I will be happy to answer any questions you may have. I look forward to hearing from you soon and seeing if we're a good fit for each other.
Thank you,
Solicited Application Letter Sample for Fresh Graduate
Dear Hiring Manager,
I am applying for the position of you have advertised recently in (insert online job-hunting website name). I believe my expertise and skills are well suits for this job. I'm writing to apply for the position that (insert name of company here) advertise on (insert date that ad was released).
At (insert last job you worked at) I (Insert quantifiable results here; things like "reduced prices by 12%", "increased market share by 15%", etc. If you have no quantifiable results, use the bullet style below)
(Insert a list of your skills and attributes – be specific with words like "hardworking", "dedicated" or work-related terms. So If you have no traits, use the bullet style below)
I would appreciate the opportunity to interview for this position at your earliest convenience. Can be reach at 555-555-5555 or via email at (insert your email address). Thank you for your consideration. I look forward to hearing from you.
Sincerely,
For More: Best Application Letter for Job Vacancy: 09 Examples & Sample
Solicited Application Letter
Respected Sir,
I am writing to apply for a post of a computer science teacher in your great institution. I have my bachelor's degree in Computer Science and my job is to teach in the local high school. My research papers on software engineering have been publish in international journals and my innovation is going to hit the market soon.
I have been teaching for the past few years and I am looking for a challenging post. Your institution is well-known all over the world and also I believe that if selected, I will be able to serve your great organization in a better way.
Please find attached my Resume for your consideration, I would appreciate so if you could keep me updated on any potential vacancies you might have available. Kindly accept my application as soon as possible. You can contact me at 9876543210 or write to me at 'xyz@abc.com'. I hope to get an interview call soon.
Thank you,
Conclusion
Regardless of what type of position you are applying for, the key to getting notice is in your application letter. That's why we compiled a list of samples and examples so that you can find one that works best for you! Whether it be an internship or full-time job, these sample letters will help show off your skills while also giving the hiring manager insight into who you are as a person. Therefore Check out our list to get start on crafting your perfect application letter. What do you think? Let us know in the comment section!