Sales cover letters get the attention of employers and set the tone for an interview. They succinctly state why you are the best person for the job and what you have to offer. Crafting a great sales cover letter can be tricky, but it's worth your time to make sure it's perfect! The cover letter is an essential part of the sales process, and it's important to make sure that you are putting your best foot forward. In this blog post, we'll give you some tips on how to write a compelling sales cover letter that will stand out from the competition. Read on to learn more! By following these tips for writing a successful sales cover letter, you can increase your chances of landing that dream job or client.
A cover letter is an often overlooked part of the job application process. However, it can be an extremely important tool for highlighting your skills and experiences. In sales, a well-written cover letter can set you apart from the competition and help you land your dream job. Here are some tips for writing a successful sales cover letter:
1. Start by introducing yourself and stating why you are interested in the position.
2. Summarize your relevant skills and experience.
3. Showcase your passion for sales and explain why you would be a great fit for the job.
4. Close with a call to action, thanking the reader for their time, and reiterating your interest in the position.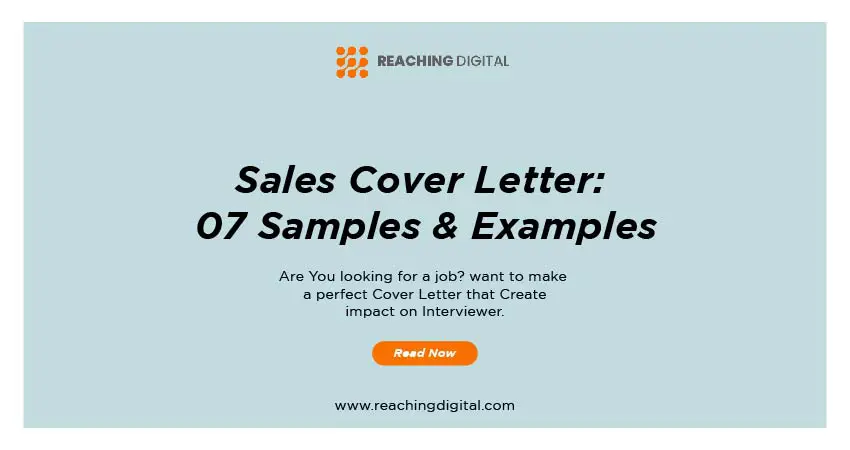 Sales Cover Letter Examples
Respected Sir/Madam,
I am writing this letter to apply for the post of Sales Executive. I have done my MBA in Marketing and worked for an NGO before joining your company.
It was during this time that I realized my passion lies in sales. It is because of this reason that I quit my job at the NGO and applied for several positions in companies looking to hire sales representatives.
This research and the experience I gained at the NGO helped me in building a strong foundation during my initial days of working with your company, when I was placed as an Assistant Sales Executive. The training programs conducted by my seniors were immensely helpful and made it easy for me to understand the basic duties and responsibilities of a sales executive.
I look forward to meeting you soon to discuss the future opportunities that I can explore in your organization. Thank you for giving me this opportunity to send across my resume for consideration.
Sincerely,
(Signature, Name)
Sales Cover Letter no Experience
Respected Sir/Madam,
I am writing to apply for the position of ___________ in your company, as currently listed on Careerbuilder.com. I have seen this job advertised several times when searching online and feel that my skills and abilities would be an asset to your organization. My resume is attached at the bottom of this letter for further consideration and review. Follow are some task that i can perform:
Meeting with potential clients and analyzing their requirements
Offering the right product to the customers based on their requirement and profile
Understanding and retaining existing customers, so that they come back for more products when needed.
I believe in your company's vision of growth and success, which is why I have continued working with your organization. My successful track record of winning over clients and completing the assigned tasks on time has made me a permanent employee in your company now.
If any additional questions arise related to my previous job performance or personal interests, do not hesitate to contact me via email or phone. I will be more than happy to provide any further details needed in reference to my employment history and qualification.
Regards,
Name, Email, Contact
For More: Sales Manager Cover Letter: 05 Sample ideas
Best Sales Cover Letter Ever
Respected Sir/Madam,
I am writing this letter to express my interest in the Sales Jobs that you advertised on your website. I have had experience in both face-to-face and telephone sales for several years, and also possess an excellent track record of achievement.
During this time, I have learned how to work well under pressure; maintain a pro-active and professional approach to sales; and also how to work as part of a team environment.
Some highlights of my career include:
Reviewing business plans, identifying key drivers and areas of growth, and preparing presentations for start-up businesses
Conducting market analysis on an international basis, gathering data from different markets, including Australia, the USA, the UK and more
Performing month-end close processes, engaging with various business units to ensure that they have received proper credit for all revenues and expenses.
As you can see from my resume, I am a hardworking and determined individual who always aims to succeed. I also believe that my experience would make me an excellent candidate to join your Company. If you are interest, I would be keen to discuss my CV in more detail.
I hope that you are enjoying the weekend and look forward to hearing from you soon.
Yours sincerely,
Name, Email
Cover Letter for Sales Job
Dear Sir/Madam,
An interest in your firm is the best way to show our appreciation for your company. This letter will hopefully convey my enthusiasm in being considered for a position in your respected organization. To have the opportunity to interview with you would be an honor and privilege, not only because I am interested in this particular field but because it could possibly lead to much growth and prosperity.
With my past experience as a ___________, I believe that I would be able to bring a lot of value to your company almost immediately. Since the position is very direct sales oriented, I have several years of customer service and follow-up prior to this most recent job in retail management. Sales is something that comes naturally to me, and I have plenty of strategies to achieve the highest possible revenue.
Even though this position is soliciting clients over the phone, I feel that my communication skills are superb for this business. The ability to quickly build rapport with customers and potential buyers would be a great benefit to your company as well as myself. My past job required me to work closely with customers, as well as other employees and colleagues, and I always strived to ensure everyone was satisfied at the end of each day.
Thank you for your time and consideration in advance. I look forward to speaking with you in the near future about this possible career opportunity and hope that we can meet very soon.
Sincerely,
Your Name
Cover Letter for Sales Position
Dear Sir/Madam,
I'd like to introduce myself as somebody who'd be perfect for the open position in your company. Having gone through with the description of your mission, I believe that my experience and skills make me suitable enough to fill the vacancy you are looking out for.
(Use bullet points to present your experience)
1. Achievements in the field of _______
2. Expertise in __________
3. Extensive knowledge in ______
4. Personal characteristics that make me the best candidate for the job are my excellent communication skills, adaptability and ability to work in a team or on my own.
(Close the letter by telling readers where they can find you)
With all of this, I'm confident that my skills would prove useful for your company and make me an excellent addition to your staff. If you are interest in what I have written, please contact me at xxx-xxx-xxxx.
I would be grateful to hear from you soon.
Yours sincerely,
Name, Email, Contact
For More: Sales Associate Cover Letter: 05 Templates ideas
Application Letter for Sales Staff
Dear Hiring Manager,
I am writing to apply for the sales representative position you advertised on Monster.com. I was very excited to see that Open Window Systems is looking to hire a new marketing assistant because I know that your company's products are innovative and cutting-edge, which is exactly what I have been looking for in my career.
During my time working as a sales account manager for _____, I gained excellent customer service skills and learned how to communicate effectively with people of varied backgrounds. My job entailed helping customers choose the mobile phone that suited their needs best. Additionally, I helped them pick out the plan that was convenient but also cost-effective for their lifestyle.
I believe I would make an excellent addition to the Open Window Systems team because I can offer excellent customer service skills, as well as help you communicate your product's features effectively. So I know that with my experience and dedication, we can accomplish great things together!
I look forward to meeting you in person soon!
Sincerely,
Name, Email, Contact
Sales Application Letter
Dear Hiring Manager,
My name is ____, and I am a hard worker. In my last position as the Assistant to the Branch Manager at ABC Bank, I was known for being an extremely dedicated employee with a great work ethic. Not only was I known for going above and beyond with respect to my job responsibilities, but I also worked diligently to help train new staff members. In this way, I feel that I possess the skills necessary to be a great fit for your entry-level sales associate position.
My goal is to make a positive impact from day one by providing your customers with the best service possible. I work well in a team environment, but also have the capability of working effectively on my own when needed. With five years of customer service experience under my belt, including two years as a sales representative for XYZ University, I am ready to bring my knowledge and skills to your company.
Working in sales, I realized that my strongest assets were my strong communication skills and friendly personality. As a result, I have studied in order to become proficient in Microsoft Office Suite, Outlook, Word, Excel and PowerPoint. I believe that my abilities will allow me to quickly adapt to the latest technologies so that your customers will receive the best possible experience when purchasing one of your products or services.
I am confident that my experience and skills will make me a great candidate for the open position at your company. If you have any further questions, please do not hesitate to contact me at 555-555-5555 or by email at _______@gmail.com. I look forward to meeting with you in person so that I can further discuss how my skills will benefit your company.
Sincerely,
Name, Email, Contact
Conclusion
I want to thank you for taking the time to read this blog post. It is my hope that it will help increase your sales and provide you with some new tips! So what do you think? Do you feel more confident about your ability to write an amazing sales cover letter after reading this guide? So let us know in the comments section below – we'd love to hear from you! And so if you need help putting any of these tips into action, our team is always here to assist. Thanks for reading and good luck on your job hunt! So If there are any other psychological principles of marketing we didn't cover, let us know in the comment section below – our team would love to hear from you. And as always, thanks for reading!