When you're looking for a job, it's important to have a great Cover letter for lecturer. But what should you include in your letter? How can you make sure it stands out from the crowd? So Check out these seven examples to get some ideas. You might find one that fits your own experience and style perfectly!
If you're looking for ideas on how to write a cover letter for a lecturer position, you've come to the right place. In this post, we'll give you seven examples of how to format and write your cover letter. Also, we'll provide tips on what to include in your letter and how to make it stand out from the competition. So, whether you're a recent graduate or an experienced professional, read on for tips and advice on how to write the perfect cover letter for a lecturer position!
Or maybe, even better, these will help inspire you to create an original, personalized cover letter that will really capture a potential employer's attention. Whichever route you choose, good luck with your job search!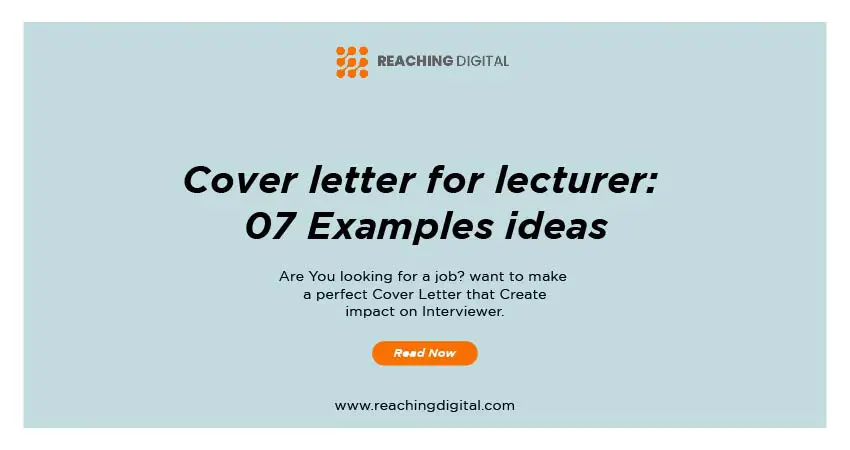 Cover Letter for Lecturer Position
Dear Sir/Madam,
I am writing in response to your advertisement looking for a Lecturer at [University].
I have an M.A. in English Literature from [university] and four years of part-time lecturing experience at [previous university]. As well as my qualifications, I bring with me good communication skills, the ability to work as part of a team, and the drive to take on new challenges.
I am very interested in this position because it would give me an opportunity to use my existing skills and knowledge, as well as help me develop further. And I feel that I was well suited to this role due to my experience with independent study and guiding students through their assignments.
I am attaching my CV for your consideration. I look forward to hearing from you in due course.
Thank you for taking the time to consider my application.
Yours Sincerely,
Name, Email
Sample Cover Letter for Lecturer Position in University
Dear Sir,
I would like to express my interest in the above lecturer position and hope that you would consider me as a suitable candidate. As outlined below, I believe that my qualifications and experience closely meet your needs:
Experience of working at both large and small public institutions
Ability to work independently or as part of a team
Familiar with all aspects of teaching and learning
Enthusiastic in my approach to work, with the energy and drive to handle a high volume workload.
Previous experience in lecturing science subjects including chemistry, physics, biology, etc in both public education institutes and adult education centers
Passion for giving back to society through education; committed to excellence in education
Energetic, positive, and enthusiastic
Organized, practical, and efficient interest in continuing education.
As highlighted in my resume, I have worked as a lecturer before at the Science Society of Islamia for five years. This provides me with ample experience to ensure that your needs are met. Please do not hesitate to contact me if you require further information.
I look forward to hearing from you. If you require additional information or wish to schedule an interview, please do not hesitate to contact me at the number listed below. I will reply as soon as possible. Thank you for your time and consideration.
Yours sincerely,
Name:
Address:
Phone number:
Email:
Cover Letter for lecturer Post without Experience
Respected Sir,
Subject: Request for the post of lecturer in your esteemed college
I am applying to your college on the basis of my 12 years of teaching experience at some prestigious colleges. During these years, I have taught many courses on different subjects. My interest lies in teaching theory classes as well as practical classes on Mathematics, Physics, and Chemistry. Confident that I can bring laurels to your esteemed college with my teaching skills.
I am thankful for giving me the chance of this interview. I have enclosed all certificates with this cover letter as requested by you in your advertisement published in Daily Newspaper on ____.
Yours sincerely,
Name:
Address:
Phone number:
Email:
Cover Letter for Lecturer Position with no Experience
Dear Hiring Manager,
I would like to apply for the position of lecturer that was recently advertised on your website. I am confident that my experience and qualifications make me an excellent candidate for the role. In this letter, I will highlight some of these qualities, as well as provide you with a general overview of my professional history and skills. I look forward to elaborating on these points during a personal interview and can be contacted via email or phone. Thank you for your time and consideration.
I have ten years of experience as a lecture in my current position at ___________ University. During this time I have adapted to the changing demands of the role by increasing my teaching load from one class per semester to two. This required me to streamline the content I was delivering into one cohesive class, while still ensuring that students were receiving a relevant and high-quality learning experience. By bolstering my management skills with additional training, I have managed to maintain high levels of student feedback (currently 4/5 on an aggregate basis). As a result, I was able to successfully implement a number of new learning initiatives that have been well-received by students and management alike.
In addition to my teaching experience, I also have two years of experience as a tutor at ___________ Tutorials. This has further developed my assessment and grading policies, while also refining my communication and interpersonal skills.
I look forward to elaborating on these points during an interview and thank you for your consideration.
Sincerely,
Personal Info: Name, Email, Address, Contact no.
Cover Letter for Lecturer Job
Dear HR Manager,
I have been working as a lecturer at the University of Sydney for three years now and I feel that it is time to apply for a promotion. As I am mainly responsible for the development of experimental courses, my goal has always been to increase student awareness of various aspects of their studies.
With this letter, I would like to present myself as an ideal candidate for the position of Lecturer. I have several ideas on how to improve the syllabus and make it more interesting for students.
Also, while working at the University of Sydney, I participated in many conferences and contributed to various committees, such as: Science and Engineering Student Advisory Committee (SESAC), High Performance Computing Committee for Information Technology Services (HPC), The University of Sydney Library, Academic Standards Committee for Information Technology Services, Academic Staff Consultative Committee.
As you can see from my resume below, I have considerable experience in both teaching and university administration.
I would appreciate if you could consider my application for this position.
Sincerely,
Name
Lecturer Application Letter
Dear Sir/Madam,
I am writing to apply for the advertised lecturer position at [ ], I believe that I am an exact match. In addition, my qualifications meet your requirements and if given a chance to join your team, I will prove my expertise in teaching psychology.
My knowledge of psychology is solid, which is why I have been teaching psychology classes for a number of years now. I have a Doctorate in Psychology from [ ] and with no less than 10 years experience, I am ready to take my career to the next level by teaching at [ ].
I believe it would be a great opportunity for me personally and academically since I want to advance my psychology career with your institute. In addition, I'm also looking for a change for personal reasons (more flexible working hours, new location).
I am hard-working and dedicated to my work. I believe my integrity cannot be questioned as proven by my career path so far. For the past five years, I taught psychology at [ ] where students appreciated my efforts in helping them towards success.
By providing me with this opportunity, I will do my best to contribute to its educational mission and fulfill all your expectations. I am looking forward to the opportunity of working with you soon.
Sincerely yours,
Name:
Address:
Phone number:
Email:
Cover Letter for Lecturer post
Dear Sir/Madam,
I would like to take this opportunity to introduce myself to you as a Lecturer in French at the University of Pristina. The position that is currently available on your website caught my attention, and I believe I am the right person for this job.
I hold a Master's degree (M2) in Literature, Language, and Communication at the University of Pristina. I was born in Kosovo and raised in Algeria, Morocco, France, and Belgium. Will be happy to provide you with any further information regarding my background or other relevant experience should it be needed.
I have taught French to adults for over two years. The courses were focused on conversation, writing, and grammar. Also I have taught French at the secondary level for two years.
I am very familiar with European teaching systems and techniques, as well as the common electronic tools. I would be happy to answer any questions you may have about my qualifications or experience.
You are welcome to contact me by phone or e-mail should you require any additional information or wish to organize an interview. I can be reached at: (phone number and email address).
I look forward to hearing from you soon and hope we will have the opportunity of meeting each other in person.
Best regards,
Personal Info: Name, Email, Address, Contact no.
Conclusion
Cover letters are an opportunity for you to show your enthusiasm and knowledge, so take the time to write one that will get you the job. It should be concise and focused on why you would be a good fit for this position. The best cover letter is not just about what skills or qualifications you have, but also how these skills can benefit the company in question. Be sure to include information such as where else they may know of you from (and if it's relevant), any education or training courses completed recently, and why their specific hiring needs suit your strengths – all while demonstrating that your personality matches theirs too! So What do think? Let us know in the comment section below!