Are you an aspiring photographer who is looking for your big break? If so, you may be wondering how to create the perfect cover letter. In this blog post, we will outline some tips for creating a cover letter that will help you stand out from the competition. We will also provide a sample photographer cover letter that you can use as a template. So, whether you are just starting out in your photography career or you are looking to move up to the next level, read on for advice on how to write a stellar cover letter!
How to Write a Photographer Cover Letter?
Writing a photographer cover letter is not as difficult as it may seem. Here are a few simple tips to get you started:
Start by introducing yourself and why you are interested in the position.
Use specific examples to demonstrate your photography skills and experience.
Explain why you believe you would be an asset to the team.
Be sure to proofread your letter before sending it off.
With these tips in mind, you should be well on your way to writing a stand-out cover letter that will increase your chances of landing an interview for the photographer position you desire. Good luck!
Related: How To Write a Cover Letter (And Get Hired in 2022!)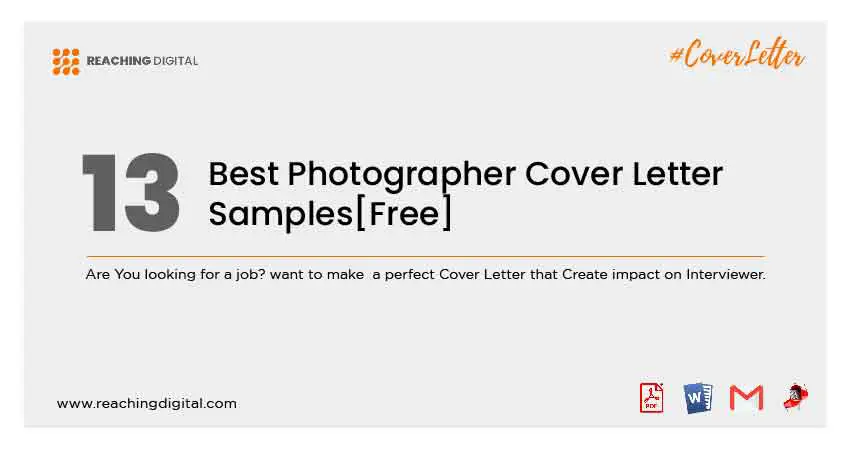 Photography Cover Letter No Experience
Hello,
I am writing in regards to the open photography position.ToI understand that you are looking for an experienced photographer, however I believe that my passion and skill for photography make me the perfect candidate for the job. Have been intereste in photography since I was a child and have been honing my skills ever since. I have a strong eye for composition and light, and I am confident in my ability to capture beautiful images.
In addition to my passion for photography, I am also very detail-oriente and organized. I would be great at keeping track of equipment and making sure that everything is running smoothly.
I believe that I would be an excellent addition to your team and I am excited to put my skills to use. Thank you for your time and consideration.
Sincerely,
Your Name
Related: Cover Letter for Internship with no Experience: 09 Samples & Examples
Freelance Photographer Cover Letter
Hello,
My name is __ and I am a freelance photographer. They specialize in weddings, portraits, and special events. I am interested in working with you as your freelance photographer.
Have a wide range of experience in photography, and I am confident that I can capture the perfect moments of your special event. I the passionate about photography and I am always looking for new and creative ways to capture the perfect shot.
Would love to discuss with you further your needs and how I can best serve you as your freelance photographer. Thank you for your time and consideration.
Sincerely,
Your name
Related: Cover Letter for Upwork: 08 Samples & Template
Cover Letter for Photography Internship
Hello,
I am writing in regards to the photography internship that you have posted. To a very excited about the opportunity to intern with your company and learn from some of the best photographers in the business.
Have been interested in photography since I was a child and have been honing my skills over the years. I am confident that I have the skills and talent to be a great asset to your company.
To eager to learn and grow as a photographer, and I believe that interning with your company will give me the opportunity to do just that. Thank you for your consideration, and I look forward to hearing from you soon.
Sincerely,
Your name
Related: Graphic Design Cover Letter: 09 Samples and Examples
Photographer Cover Letter Examples
Dear __,
If you are searching for a photographer that will provide you with beautiful and timeless photos that you will cherish forever, then look no further! I am confident that I can exceed your expectations and deliver stunning results.
Please take a look at my portfolio to see some examples of my work: __
I am available to shoot on and. I look forward to hearing from you soon!
Sincerely,
Your name
Related: Sales Cover Letter: 07 Samples & Examples
5 Things To Include In Photographer Cover Letter
A cover letter is an important component of a photographer's portfolio. It should be clean, concise, and free of grammatical errors. This document should also include the following five elements:
First, the cover letter should introduce the photographer and their work. This is an opportunity to make a good first impression and pique the interest of the reader.
Next, the cover letter should explain why the photographer is interested in the position or opportunity. This section should be concise and to the point.
The third element of a strong cover letter is a brief overview of the photographer's experience and skills. This is an opportunity to highlight relevant accomplishments and qualifications.
Fourth, the cover letter should include examples of the photographer's work. These can be links to online portfolios or attachments of previously published work.
Finally, the cover letter should conclude with a call to action, such as inviting the reader to view more work or offering to meet in person for an interview.
By including these five elements, photographers can increase their chances of getting their foot in the door and landing their dream job or gig.
Related: What is Cover Letter? Complete Guide To Get any Job.
Conclusion
As a professional photographer, your cover letter is one of the most important pieces of marketing material you have. It's the first thing potential clients will see, and it can make or break your chances of getting hired. With that in mind, we hope our tips for writing an amazing photographer cover letter have been helpful.
If you need more advice or want help putting together an eye-catching portfolio, don't hesitate to reach out to us. We love helping photographers find work and showcase their talents! Have you had success using any of these techniques? Let us know in the comments below!