Looking for Cover Letter for Internship with no Experience. If you're looking for a way to jump-start your career, internships offer an excellent opportunity. Internships don't just provide valuable work experience and networking opportunities; they also give employers the chance to see what type of worker you are before hiring you full-time. But how do interns with no previous experience get their foot in the door? So Here's how! You can get any internship by using an attractive cover letter.
Cover letters can be tricky. You want to show that you're a great fit for the position, but you don't want to seem like you're trying too hard or exaggerating your qualifications. And if you don't have any experience in the field, how do you even begin to write such a letter? Don't worry – we're here to help. Therefore In this post, we'll give you tips on how to write a cover letter for an internship with no experience. Keep reading for more information!
A cover letter is a must when applying for an internship, whether you have experience or not. When writing a cover letter for an internship with no experience, be sure to emphasize your strengths and how you can contribute to the company. You may also want to indicate why you are interested in the position and what you hope to learn from it. Tailor your letter specifically to the company and position you are applying for, and be confident in your abilities. Showing initiative and enthusiasm will demonstrate that you are motivated and passionate about learning new skills. By following these tips, you can create a strong cover letter that will help you stand out from the competition.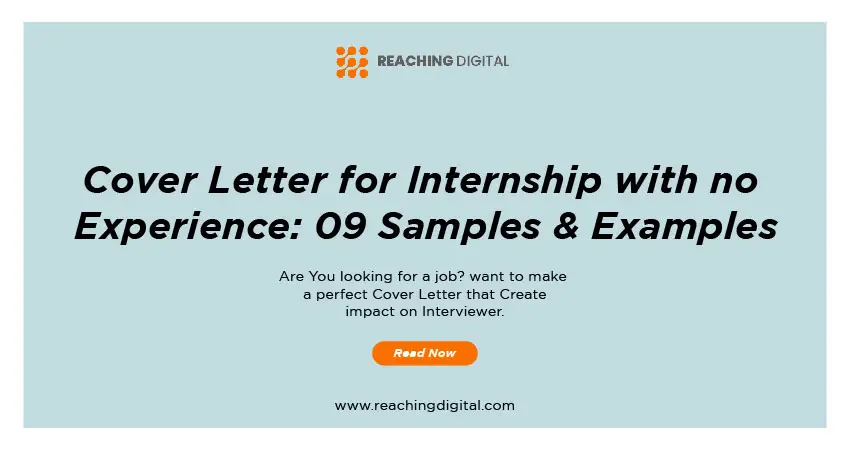 Cover Letter for Internship with no Experience sample
Dear Hiring Manager,
To start with I am applying to the position of an accountant intern offered by your company. So, I have finished my four year college course on Accountancy followed by a one year post-graduate diploma in computing and accounts, also after my MBA. This is what compels me to look for the best career option as a finance specialist. Actually, I have understood the fact that you are looking for an Accountant intern who can work as a team with your finance department and is responsible for preparing invoices, purchase orders, bills of exchange, etc.
I would like to take this opportunity to inform you that I am very interested in this job and that I am available for an interview. I appreciate your considering my application and look forward hearing from you at your earliest convenience.
Thanking you,
Your Name
Internship Cover Letter Examples with no Experience
Dear Hiring Manager,
I am writing to you in order to explain why I believe that I would be a valuable addition to your company. I have recently graduated from College and as such would love the opportunity to gain some real world experience and learn new skills which will benefit my future endeavors.
The specific job opening for which I am applying is:
Position: Marketing Internship
I believe that my qualifications would be a perfect match for this position. I have assisted in planning and executing marketing strategies in the past, and understand. How important it is to follow through with precise execution in order to ensure flawless brand image. Please find attached my resume for your reference. Because, I would apologize for its length, but I believe it is important to highlight my experience and qualifications.
I hope that you will appreciate my interest in the position, and I would be happy to provide you with any additional information that you might require. My contact information can be found on my resume. THANK YOU for your time and consideration!
Sincerely,
For More: Internship Cover Letter Examples:10 Samples & Templates
Student Cover Letter for Internship with no Experience
Respected Sir,
In response to your advertisement for the open internship program, I would like to apply as a _______ Intern.
I have done my Bachelors of Commerce from ____ University and am currently pursuing MBA in Marketing. After completing my education, I worked as an Accounts Manager with ____ Corporation for two years where I managed multiple projects and developed a team from scratch. I have been placed in many challenging situations where I had to manage multiple projects with limited resources at work. In addition, while interning for a local restaurant during my college days. So, I gained experience in customer service by dealing directly with clients.
I will be able to contribute my skills and experience to grow your establishment through effective planning, development, execution, and evaluation. So, I am able to work well within a team environment as well with minimal supervision. I am confident that with my qualifications outlined above, so I can help increase your revenue via customer relationship management.
So, I am attaching my CV along with this letter. I will contact you shortly for an interview at your convenience. Thank you very much for the opportunity.
Regards,
Your Names
Sample Cover Letter for Engineering Internship With no Experience
Dear _________,
I'm writing to express interest in the _____ position that was advertised on Monster.com yesterday. I would like to request a meeting with you on May ____ at 10 am. In preparation for this interview, I have attached my resume and a copy of my transcript from the University of Engineering.
I am very interested in working as an engineering intern. Because it is a field that offers extensive opportunities for creativity, innovation, and new technology. Within the field of engineering, I am most interested in _____ because of my love for math and science.
I have attached my resume and transcripts to show you. So, that I have taken some relevant courses at University of Engineering, but more importantly, they demonstrate my strong work ethic. I look forward to meeting with you. Thank you for your consideration.
Sincerely,
Cover Letter for Accounting Internship with no Experience
Dear Sir,
I am currently looking for Accounting Internships. Require someone who can work in team environment and also has great attention to detail.
Experience with technical accounting systems is beneficial but not required, as my strong knowledge of financial reports will allow me to succeed with or without this experience. I have looked at your website and believe I can contribute to your company.
My qualifications include: (Put your qualification here)
Bachelor of Business Degree majoring in Accounting at the University of Sydney.
I am eager to learn and take on new challenges, so if you are looking for someone with determination and a positive attitude I am interested in hearing more about your internship program. Thank you for your consideration; I look forward to hearing back from you.
Sincerely,
Your Name
For More: Cover Letter for Marketing Internship: 05 Sample ideas
Internship Cover Letter Examples with no Experience
Respected Sir,
It is my pleasure to send you my cover letter for an internship with your esteemed company. I am writing in response to the advertisement for an intern that was forwarded to me by…(name of person who referred you).
I have particularly interest in this position as an intern because. Because, This will give me the perfect opportunity to put into application the key skills that I have acquired during the course of my degree. So, During the past few years, I have been actively involved in research and have written several papers on (field/subject).
As a prospective intern with your company, I would be grateful if you could see your way clear to offer me an internship position…
I am enclosing herewith a copy of my CV. Thanking you, I remain hopeful of your positive response at the earliest.
Yours Sincerely,
(Name) (Address) (Phone No.) (E-Mail ID).
Conclusion
I hope this blog post has given you some valuable information that will help you in your job search. If so, please share with your network. You can also connect with me on LinkedIn or Twitter for more career advice and insight to help you land the internship of your dreams. Because, When it comes down to cover letters, make sure yours is tailors to each company's needs and requirements. Remember to highlight what makes YOU a great fit – not just how much experience you have had in a certain field. What do you think?
If it's not too much to ask, please share with me what strategies have worked for you so far! Let us know in the comment section below how these tips work out for you and if there are any additional questions or concerns. Your feedback is always welcome- thank you for reading! so Let us know in the comment section below!