If you're looking for ways to improve your medical assistant cover letter, look no further. In this blog post, we'll provide five tips that will help make your letter shine. Plus, we've included some helpful templates to get you started. So whether you're just starting out or have been applying for medical assistant jobs for a while, these tips will give you the edge you need to land your dream job!
When you are applying for a job, it is important to have a great cover letter. A medical assistant cover letter is no different. You want to make sure that you show the employer that you are qualified for the position and that you would be a great addition to the team. There are many different ways to write a medical assistant cover letter, Each template is different, but they all have the same goal: to show the employer why you are the best candidate for the position. So, which one will you choose?
covering letters are often ignored by job seekers, but they can be a key part of your application. You can use your cover letter to introduce yourself, showcase your skills and highlight your experience. Writing a medical assistant cover letter can be challenging, but if you follow the right tips you can make it stand out from the crowd. In this blog post we will share some tips for writing an effective medical assistant cover letter, as well as five templates that you can use as a starting point. So don't miss out – read on for more information!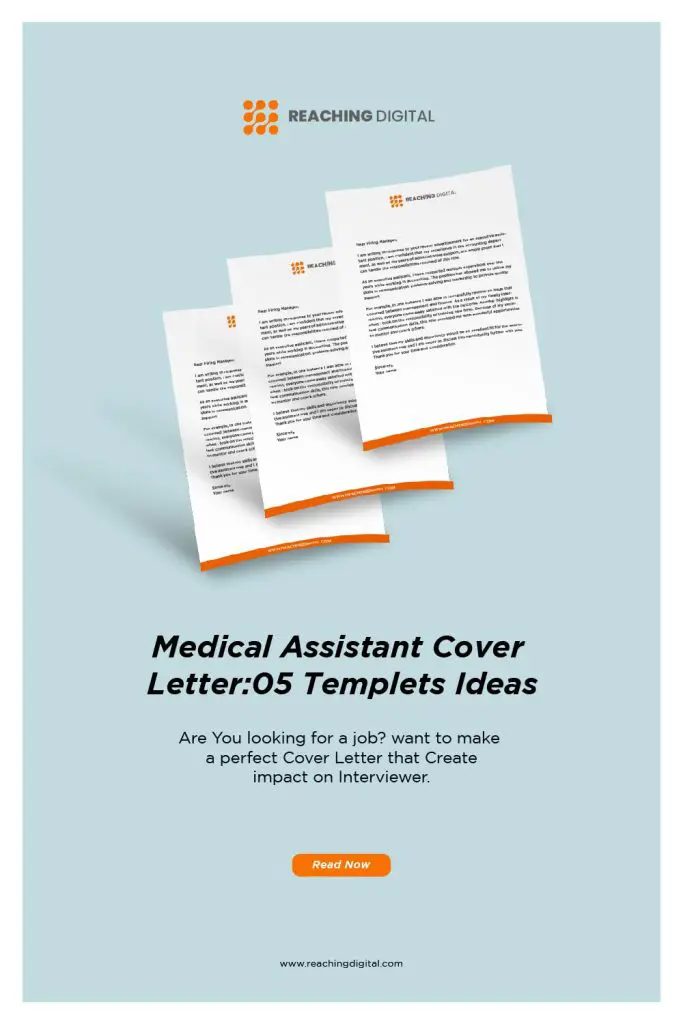 Medical Assistant Cover Letter Examples
Respected Sir,
With reference to your advertisement in the "Jobs Report Bulletin", I would like to submit my resume for your kind consideration.
I have worked as an experienced medical assistant for many years in this field, and consider myself to be a dependable team player who has always given 100% effort at all times. Also, I feel that my work ethic and interpersonal skills make me an excellent candidate for this position, having worked closely with other medical staff to improve departmental coordination.
I have enclosed my resume for your review. Because, I will contact you in the near future to follow up on this application and hope that you will keep my materials on file for any future positions within your organization that may become available. Thank you for your time and consideration, and I appreciate the opportunity to have submitted my resume
Sincerely yours,
Name, Email
Medical Assistant Cover Letter With no Experience
Dear Sir/Madam,
I am writing to apply for the position of a medical assistant as advertised on Craigslist. I believe that my qualifications and experience make me an excellent candidate for this position and would like to ask you a few questions before taking the time to complete your application process.
First, what is the salary range for this job? When would I be eligible for an increase?Secondly, how many days are you planning to be out of the office per year on vacation or sick time?And finally, what would my expected hours per week be? (include in your answer whether I would need to work nights and/or weekends)
Please feel free to schedule an in-person interview so that I can speak to you directly about my qualifications. My resume is attached below for your reference.Thank you for your time and consideration,
Regards,
Name, Email, Contact#, Address
Medical Office Assistant Cover Letter
Dear Sir/Madam,
Over the course of my career, I have worked with a variety of patients in a range of medical settings. My experience has taught me that I am a perfect fit for your company. The attached resume outlines my qualifications and interests in more detail. This letter is also to express my strong interest in your organization and to request consideration for an internship during the summer.
Please find enclosed my resume as well as a writing sample from my senior thesis at __________ University. Upon request, I would be happy to provide any additional information that might be helpful in your decision-making process.
Thank you for the opportunity and I look forward to hearing from you soon.
Sincerely,
Name:
Email:
Address:
Contact#:
Medical Assistant Cover Letter Template

Dear Hiring Manager,
I am writing to express my interest in the open Medical Assistant position at [COMPANY NAME]. I believe that I am the perfect candidate for this role. Read on for more about why I would be a great addition to your team!
I have five years of experience as a medical assistant and have recently relocated to [CITY]. As a result, I am looking for a new position that will allow me to expand upon my existing knowledge and skills.
I enjoy helping others and take pride in the work that I do, so customer satisfaction is one of my top priorities. I have excellent communication skills, both written and oral. Also, I stay organized by maintaining patient charts up-to-date. I am able to multi-task, prioritize efficiently and work well under pressure, allowing me to go above and beyond for my patients. Because, I also have a positive attitude and professional demeanor, which make me an excellent team member.
As the ideal candidate for this position, you will find that I have the necessary skills to effortlessly handle patients. I am proficient in medical terminology and can perform vital tasks, such as taking vital signs, updating charts and administering injections. I also have experience with insurance billing processes.
It would be an honor to join your team at [COMPANY NAME]! Please find my resume attached, along with references if needed. Thank you for your consideration.
I look forward to hearing back from you soon!
Sincerely,
Name & Contact info
Medical Assistant Cover Letter Sample
Dear Sir or Madam,
In applying for the receptionist position that has been recently posted I feel that my extensive experience as a receptionist combined with my training in medical assistant will make me a great asset to your company.
Over the past two years I have worked as a receptionist at my local hospital and feel that this has given me the experience needed to be able to work well in fast-paced environments, especially when it comes to multitasking and prioritizing tasks. Additionally, I am able to handle several projects at once without sacrificing quality or efficiency.
I am also proficient in (list applicable software such as Microsoft Office), which has made me more efficient when it comes to completing tasks quickly and efficiently. This is especially important in busy environments, such as the one you work in.
Furthermore, during my time working at the hospital I was able to learn more about the medical profession and I became one of my greatest passions. I took an accredited course and received certification in medical office management so that I could continue to advance my knowledge of the field while helping others at the same time.
I am confident that my skills and experience would be a great asset to your company, especially when it comes to your receptionist position, and I would love to set up an interview at your earliest convenience.
Sincerely,
Name, Email, Address
Conclusion
So what do you think? Do you feel inspired to write your own cover letter now that you know how to make an impression with hiring managers? Remember, it's important to be specific and personalize each Cover letter according to the company and position you are applying for. Are there any other tips you would like us to share about writing a successful medical assistant cover letter? Let us know in the comment section below. And if you're looking for more information on how to write an amazing medical assistant resume, be sure to check out our other blog posts!