Executive assistants are the backbone of any organization. They keep everything organized and running smoothly. You're looking for a job as an executive assistant, you'll need a great cover letter. If so, you need to write a cover letter that will stand out from the competition. In this blog post, we'll provide some tips on how to create a cover letter that catches the hiring manager's attention. We'll also provide a sample cover letter for you to use as a reference. So let's get started!
Cover letters are often a necessary evil in the job application process. They can be tedious and difficult to write, but they're also important to get right if you want to make a good impression on potential employers. In many cases, a cover letter is your first opportunity to introduce yourself and showcase your skills and qualifications.
Your cover letter is your introduction to a potential employer. It's your chance to show them that you're the perfect candidate for the job. In order to catch their attention, you need to write an intro paragraph that is engaging and showcases your skills and qualifications. Start by stating which position you are applying for, then list a few of your best qualities that make you the perfect candidate. Finally, explain why you are interested in the position and why you would be the best choice for the job. By writing an engaging intro paragraph, you'll ensure that potential employers will read on to learn more about you!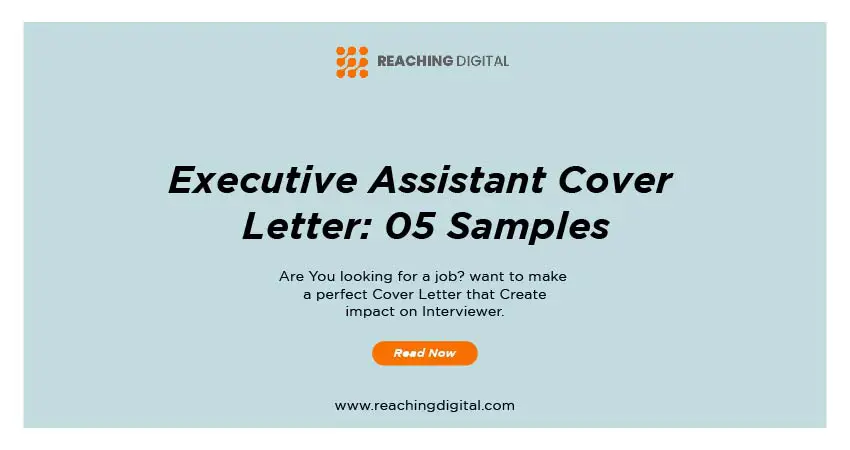 Executive Assistant Cover Letter Examples
General Dear Sir/Madam,
I am writing to apply for the post of [Position title] in your company. I believe that my experience, qualifications and skills qualify me for this role. My name is [Name], and I am a graduate of [Graduate school]. During my studies I was exposed to the inner working of an office.
After working in several internships with companies such as [Company 1] and [Company 2], I developed skills such as [Examples of skill], and [More examples].
I am very confident that I can quickly adapt to the task at hand, and master new skills. My previous experience has prepared me to take up this role with minimal supervision, and I feel ready for the challenge.
Best regards,
Name, Email, Contact no., Address
Executive Assistant Cover Letter pdf
Dear Sir/Madam,
I am writing in response to the advertisement for an executive assistant posted on several job sites. As requested, I enclose my CV along with this letter detailing why I believe I am qualified for this role.
As you will see from my enclosed CV, seven years of experience at ___ has given me a strong background in all areas of executive assistant work. I have excellent communication skills which, combined with my efficiency and discretion, have made me an extremely effective member of the team.
I would welcome the opportunity to discuss these further at any time convenient for yourself.
Yours faithfully,
Name, Email, Contact no. , Address
Executive Assistant Cover Letter Sample
Dear Sir/Madam,
I am writing in response to the job opportunity listed on your website. I am very interested in this position because of my recent work experience with [COMPANY] and I am confident that I am exactly what you are looking for.
In the past [XX] years, I have been an Executive Assistant to [TARGET JOB TITLE] at [COMPANY 1]. In this position, I have strongly developed my communication and organizational skills. My duties include managing multiple projects for high-profile clients, communicating with vendors and members of the public, ensuring that all projects are completed on time and working with the Office Manager to increase office productivity.
During my five years at [COMPANY 1], I have developed strong skills in this position which would be of great benefit if I were to join your team. As you can see from my attached resume, I am familiar with all aspects of Microsoft Office software and the job duties I performed with [COMPANY 1].
I would welcome the opportunity to discuss this position further at your earliest convenience. Please call me on my cell phone at (123) 456-7890 or email me through this website for more information about how I can make a fantastic contribution to your organization. Thank you for your time and consideration.
Sincerely,
Name, Email, Contact no. , Address
For More: HR Assistant Cover Letter: 07 Templates ideas
Cover Letter for Executive Assistant Position
Dear Sir/Madam,
I am writing to express my interest in the position of Executive Assistant advertised on Monster.com/au. Also I am aware that you are currently looking for a driven and proactive individual with experience of administration management.
I feel that this is an excellent opportunity to utilise my existing skills and qualifications within an exciting, progressive organisation. Over the past six years I have worked in various administration roles including contract work, casual freelance positions and permanent roles. During this time I have increased my skills in use of Microsoft applications, administrative management and strong customer service relationships.
I believe that my previous experience has well prepared me for the role of Executive Assistant to the CEO. My duties included coordinating office activities for the CEO, managing staff rotas and organising company functions. I am confident that I would be able to adapt my skills to your needs in order to meet the position requirements with ease.
I believe that this experience, coupled with my positive attitude would make me an excellent candidate for this role. Please find attached my resume along with references for your consideration. I appreciate the time you have taken to consider my application and I look forward to hearing from you in regards to an interview at your earliest convenience.
Regards,
NAME, Email, Contact No.
Application Letter for Executive Assistant
Dear Sir/ Madam,
I am writing this letter to express my interest in the available executive assistant position with ABC Company. I would appreciate it if you consider me for an interview at your earliest convenience.
My objective, after gaining some additional experience is to become a successful manager within a progressive company. As part of my responsibilities while employed at XYZ Bank, I oversaw the coordination and editing of all bank correspondence. I also managed a team on five or more assistants, acted as a liaison with our international offices, and worked closely with the company's marketing department on various projects.
I am confident that my experience will be an asset to your organization and would welcome the opportunity to meet with you for an interview.
Thank you for your consideration.
Cordially,
Name, Email, Contact no. , Address
For More: Cover Letter for Internal Position: 09 Examples ideas
Conclusion
I hope this article was helpful to you! If it wasn't, let us know in the comment section below. Lastly, if you need help with any other aspects of your resume, or are just looking for some guidance on how to write an executive assistant cover letter, feel free to contact our team at The Resume Place today. We have experts waiting by ready and able to assist you! What do you think? Let us now in the comment section below. Lastly, if you need help with any other aspects of your resume or are just looking for some guidance on how to write an executive assistant cover letter – feel free to contact our team at The Resume Place today. We have experts waiting by ready and able to