If you're considering a career change, then you'll need to write a cover letter to accompany your resume. A good cover letter can make the difference between getting an interview and being overlooked. In this blog post, we'll provide you with a template for writing a career change cover letter, as well as know how to write a cover letter with some examples that will help you get started. So whether you're making a big leap or just taking the first step in your new career, be sure to use our guide to craft an attention-grabbing cover letter!
Are you considering a career change? If so, you'll need to write a cover letter to go with your resume. The good news is that we've got a template and examples for you to use! Career change cover letters can be tricky, but with our help, you'll be able to write one that will make the hiring manager want to learn more about you. So what are you waiting for? So Start writing today!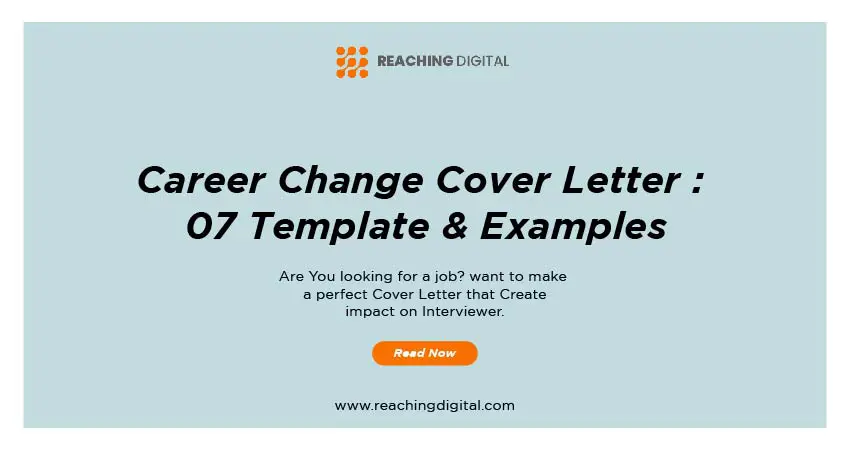 Career Change Cover Letter Samples
Dear Sir/Madam,
With reference to your advertisement in the "Daily Times" of May 1st, I would like to apply for the position of a sales assistant in your company. The reason why I am writing this letter is that I have realized that my current occupation is not appropriate for me since it does not meet my education and skills.
I hold a Bachelor's degree in English, I have acquired this qualification at the University of Karachi. Since I am an experienced university teacher, my employment experience includes work as a part-time lecturer. Currently, I will be completing my Master's degree in Public Administration this summer through correspondence to acquire more skills that would help me perform better.
My career goals include working in an organization where I can utilize my skills and knowledge to the best of my abilities. I would appreciate your time taken in reading this letter, and upon receiving it I hope you will give me an interview. Thanking You!
Sincerely,
Your Name
Sample Cover Letter for Career Change position
Dear Hiring Manager,
I am a recent graduate who has decided that it is time to make a change. Your company has been on my radar for a long time now, and I feel as though this would be a great opportunity to build my skillset and gain experience in the field of Biotechnology.
The attached résumé outlines my education and experience in more detail. May I set up a time to speak with you in person?
Thank you for your time, and I look forward to hearing from you soon.
Sincerely,
Your Name
ABC@gmail.com
Career Change Cover Letter examples
Dear Hiring Manager,
I am currently happy in my position as a Software Engineer, but have been thinking about relocating for a while. I have two friends that used to work at your company and spoke highly of it's culture and the people in the organization. Would be additionally excited if this position were open because my brother is in town looking for a job in construction management. We haven't seen each other in years and I know he would be excited about working here.
The main reason I am writing to you is because of your hiring needs post on the job site. While I am applying for this specific position, it appears that there are other positions available within your company as well? If this is the case, please feel free to send me information on these other available positions as well. I am excited about the possibility of being able to increase my career options within your company.
I would appreciate any consideration you could give me for this position and hope to talk with you soon!
Thank you,
Your Name
Career Change Cover Letter pdf
Dear Sir,
With a solid background managing people and logistics, I am confident that my experience will be an asset to your organization.
As the enclosed resume shows, I have 8 years of sales management with XYZ company. My extensive sales training has prepared me well for a position in advertising sales.
I am interested in learning more about your advertising space and what you have available.
I will call you on Friday morning to schedule a time for us to meet.
My best regards,
Your Name
Career Transition Cover Letter
Dear Sir/ Madam,
Over the course of my career I have had the privilege to work with many clients, providing them with support for their various needs. As a result of this experience, I've acquired strong communication skills and am now applying what I have learned to another industry. With six years' experience in customer service, it's become clear to me that banking is where I want to be. This is why I'm writing to you about available career opportunities in your company, along with my resume enclosed for your review.
I have a bachelor's degree in business administration and have managed to not only meet but exceed sales goals while working at XYZ Company. By doing so, I've learned how to work independently as well as how to collaborate with others. In addition, I have also been able to show my employers that I'm adaptable and a fast learner.
Employers value the ability to learn quickly, which is why I feel confident in applying for a new position within your company for a teller or an assistant. Every job requires a certain level of expertise, and I am prepared to learn the ins and outs of this industry.
I hope to have the opportunity at your earliest convenience to discuss career opportunities with you in person. Thank you for your time and consideration.
Sincerely,
Your Name, Email, Contact no.
Cover Letter for Switching Careers
Dear Sir/Madam,
I am writing this letter with regards to the job description advertised in "Website name" which says that you are looking for a candidate with the following qualifications.
I have worked for 3 years in "Name of organisation" where I handled general admin work and also did some data entry. Currently, I am working in "name of the company".
My duties include managing office correspondence, scheduling appointments, handling database management etc. Since my current job involves a lot of typing, I am confident that I will handle the work assigned to me efficiently.
I look forward to meeting you for an interview. Thanking you in anticipation.
Yours Sincerely,
Name, Email, Contact no.
Career Change Cover Letter Template
Respected Sir,
I am writing this letter to you in order to apply for the job of assistant manager. I have attached my resume with this letter. Hope that you will find it suitable for your requirements.
My old college is two hours away from here, so I am looking for a new job closer home. When I read about your vacancy in the newspaper, I thought it would be the perfect opportunity for me.
You may find my qualifications and experience suitable for this job. Therefore I am confident that I can contribute to your organization in many ways. The highlights of my career are given below.
I did BSc (Hons) in Chemistry five years ago; afterwards I worked for a year as lab assistant in the same college where I did my degree.
I completed my MBA in marketing two years ago and since then I have been working for an MNC on the post of business development officer. Before this, I worked for two years in an advertising agency handling print media campaign for different companies.
I am confident that my educational qualifications and work experience will enable me to rise to the challenges. I am willing to come for an interview at your convenience.
Thanking You,
Yours Sincerely,
Name, Email, Contact no.
Cover Letter for job Change
Respected Sir/ Ma'am,
My name is "Name". I came across your advertisement for "Job Title" in the newspaper. Therefore I am very interested in working with your company, and believe my qualifications make me a suitable candidate for this position.
I came across your job advertisement in "newspaper name". Have interest in the position of "Job Title" that you are offering and believe that my qualifications make me an excellent candidate for this position
I have enclosed an up-to-date copy of my resume to illustrate how I match the job description you are looking for.
Thank You,
"Your Name"
Conclusion
So, there you have it! We've walked you through how to write a career change cover letter and shared seven templates that you can use as a starting point. Now it's time for you to put your own spin on things and make the letter your own. So Remember to tailor each letter to the specific position and company you are targeting. And most importantly, have fun with it! The process of writing a great cover letter can be energizing and exciting, especially when it opens up new possibilities for your career. So What do you think? Let us know in the comment section below.