Cover letters are an important part of any job application. They give you a chance to introduce yourself and explain why you are a good fit for the position. Architecture cover letters can be tricky, though, because you need to show that you have the skills and experience required for the job, while still maintaining a professional tone. Therefore we've put together this list of 09 examples ideas that will help you create a winning architecture cover letter. So whether you're just starting out in your career or you're looking to switch gears, these tips on how to write a perfect cover letter that will help you make the best impression possible!
Cover letters can be tricky. How do you encapsulate your skills and experience in a way that shows the reader you're the best candidate for the job, without sounding repetitive or like you're bragging? Therefore, we've got some examples to help you out. So check out these architecture cover letter samples, complete with tips on what to write and how to format your letter.
Whether you're a recent graduate or an experienced professional, we've got a template for you. So read on, and get started on crafting your perfect cover letter today.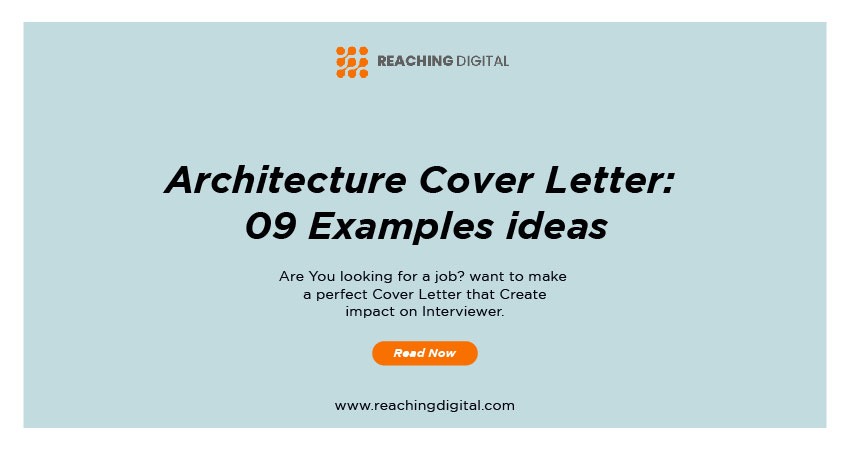 Cover Letter for Architect Job
Dear Hiring Manager,
I am writing to you because I have interest in the position of _________ at ___________. After reviewing your job description, I believe that my qualifications match your needs. In this letter, I will explain why I would be a good fit for the company and how my experience has prepared me for this position.
My background and experience has enabled me to learn essential skills in my design work, such as using CAD software and AutoCAD. I am also experienced working with Microsoft Office tools like Word and Excel.
In addition to the technical skills needed, I am a creative thinker with strong interpersonal communication skills that allow me to collaborate well with co-workers. My background includes working as a junior designer for __________ and also an intern at the Architecture Office of _______.
If you would like to learn more about me, I invite you to view my attached resume and portfolio. So If you have any questions about my qualifications and experience, please feel free to contact me at (555) 555-5555.
Thank you for your consideration and I look forward to hearing from you.
Sincerely,
Name:_______, Email:___________, Address:__________Contact#____________
Cover Letter for Architecture Internship
Respected Hiring Manager,
The attached CV is for the post of "Architectural Consultant" in your esteemed organization. I believe that I am the most suitable candidate for the post. Therefore I enclose my resume along with this letter to give you an idea about my educational qualification, work experience, and other relevant skills which are more than enough to qualify me for this job.
I am well aware of the fact that this role requires me to be responsible for drafting the construction drawings and site plans. Also have completed my Diploma in Interior Designing which is a 4-year course with an aggregate of 70% marks. Along with academic excellence, I also gained experience by working as an interior designer for 5 years during my graduation days.
Would like to highlight that I am very good at utilizing CAD software, AutoCAD which is one of the costliest software for designing purposes. I also possess skills to create presentations using PowerPoint and Autodesk 3Ds Max Design program so as to give you an idea about the design.
I am confident that you will find my educational background and job experience very relevant. If you need any clarification, so please get in touch with me anytime. I would be grateful if you could schedule an interview so we can discuss further the role. Thanking You!
Yours Sincerely,
Name & Signatures
Architecture Cover Letter Examples
Dear Sir/Madam,
I would like to apply for the Assistant Architect job at your company. So after reviewing your website, I believe that my qualifications are an ideal match for the position.
My skills in AutoCAD have been honed through many years of practice, and I can work quickly and accurately with any design software required to carry out day-to-day tasks. I am also experienced with computer-aided drafting (CAD) equipment such as photocopiers and scanners, essential for creating plans and drawings required by local authorities.
I studied Architecture at (college name), graduating within the top 5% of my class. The diverse range of subjects available at college gave me a thorough grounding in all aspects of the profession. I have a deep interest in designing buildings, especially for historical renovation projects. As part of my course, I completed an extensive six-month work placement at (company name) which allowed me to hone further skills relevant to this position.
I would welcome the chance to visit your offices and demonstrate why I should be considered for the Assistant Architect position at your company.
Yours Sincerely,
Name:
Email:
Junior Architect Cover Letter
Dear Sir/Madam,
I am a passionate self-taught designer, with skills in all stages of graphic design and user experience. I have grown up as a child with a pencil in my hand and continue to find new ways to express myself. My background is in fashion design, where I used Adobe InDesign to create sketches for clothing lines. The ability to express my creativity in a variety of forms has been the foundation of every successful design. In addition to my experience with print-based adobe products, I have extensive experience using Photoshop, Illustrator and InDesign. With these skills, I am confident that you could benefit from my knowledge in your company.
My eagerness to learn new techniques enables me to quickly adapt to the requirements of a new task. I am always looking for opportunities to improve my skills with any feedback from team members or seniors. My attention to detail is evident in opportunities that have been presented to me, with an ability to pick up on mistakes and correct them accordingly.
I look forward working under your management and expanding my skills through your organization.
Thank you for your consideration.
Yours sincerely,
Name:_______, Email:___________, Address:__________Contact#____________
Architect Cover Letter Sample
Dear HR Manager,
I am a recent graduate from ______ University, Pomona with a B.S. in Architecture and a minor in Construction Management. In completing this degree, I have accrued several years of knowledge pertaining to construction drawing and documentation, building code analysis and enforcement, public works law compliance practices, contract administration protocols, fabrication of architectural building components, and project management techniques.
Starting off in the industry as an intern for a local architectural firm has given me experience working with commercial real estate developers, governmental agencies, homeowner's associations, property managers, multi-family housing companies, educational institutions, religious facilities, recreational centers/facilities at community centers/clubhouses & sports fields, and private foundations.
I am very interested in your firm's construction management department and I hope to apply my passion for architecture, my strong work ethic, and skills acquired through my education to your team. Please find attached my resume detailing some of the other projects I have worked on as well as a portfolio showcasing some of the designs that I have come up with.
I hope to gain an interview with you in the near future to discuss how my skills match up with your needs. Thank you for your time and consideration. I look forward to hearing from you soon.
Sincerely,
Name:_______, Email:___________, Address:__________Contact#____________
Architecture Intern Cover Letter
Dear Art Director,
I am a recent graduate of the University of Design and Technology, where I majored in Graphic Art and Visual Communications. During my tenure at UD, I became acquainted with the architecture department through a required internship for one of my design classes. Although I am looking to become established in the design world. Because of my work experience and education in this industry. I feel that your company may be an excellent place for me to grow.
I have interest in the architecture design field because it seems to be well suited to my personal interests and skills, which include strong technical abilities, imagination, creativity, and attention to detail. Would like the opportunity to work with your company, as I believe that my enthusiasm will serve me well in this industry.
Please let me know if you need any additional information from me. And I hope to hear from you soon about a possible opening in your company.
Sincerely,
Name:_______, Email:___________, Address:__________Contact#____________
Application letter for architect
Dear Sir/Madam,
I was referred to your article in the "Chicago Sun-Times" by a former colleague at my last job, and I thought it might be helpful for me to contact you. I have interest in applying for positions at major architecture firms.
However, since they are not usually looking for an entry-level candidate, I need to creatively market my skills and experience. I attended an architecture school for five years, and I received awards from the American Institute of Architects during that time.
After graduation, I worked as a design intern at an architectural firm where I helped design amusement parks and shopping malls across the United States. Working under close supervision. Also managed the construction of five large shopping malls for one of the firm's major clients.
I am willing to relocate, work overtime, and I can even work on weekends, if needed. Please let me know if there is anything else you need from me in order to help you decide whether I'm a good fit for this position.
I will contact you again next week, if I don't hear from you first.
Sincerely,
Name & Signatures
Fresh Graduate Architect Cover Letter
Dear Sir/Madam,
I am writing in response to your advertisement for a junior architect with up to five years' experience and a university degree. I believe my qualifications and previous working experience make me an ideal candidate for the position. My employment history includes designing small-scale residential buildings, commercial spaces, and special projects such as gardens and community centers. I bring strong problem-solving, creativity, and communication skills to the job.
I would like to arrange an interview. May I call you on (555) 555-5555 to discuss my application in more detail? I look forward to hearing from you soon. Thank you for your consideration.
Best regards,
Name:__________
Email:___________
Address:________
Contact#:_______
Sample Application Letter for Architect
Dear Sir,
I am an experienced architect with a degree in architecture from the University of Stirling. With over four years of experience working on large-scale, low-budget commercial developments within my home city of ____. I am now looking to move into something more challenging.
I have always enjoyed working on challenging projects that push me to develop my skill set and provide interesting and dynamic designs that often challenge the boundaries of what is possible.
As such, I would like to be consider for a position within your company. Also I believe working for you would greatly enhance my ability as an architect.
I have enclosed four examples of my work which will give you an insight into my abilities and approach to design and construction.
I look forward to meeting you in the near future and arranging an interview as soon as possible.
Yours sincerely,
Name:_______, Email:___________, Address:__________Contact#____________
Conclusion
In the end, it is important to remember that a cover letter should be able to stand alone. The purpose of your architecture cover letter is not only so you can get an interview but also so they have something interesting and informative to read in order for them to want more information about who you are as a candidate. Use this list of 09 examples ideas when crafting yours!