Want Academic Cover Letter? Cover letters can be a tricky thing. On the one hand, you want to make sure that you are putting your best foot forward and showing the employer what you have to offer. But on the other hand, you don't want to sound like you're arrogant or like you think too highly of yourself. How do you find that perfect balance? So check out these examples for some guidance. Each one is tailored to a different type of job and a different level of experience, so there's something for everyone. Also, they're all written in a confident and friendly tone that will show the employer that you're excited about the opportunity!
imagine you are a recent graduate and it is time to apply for your first "grown-up" job. The application process can seem daunting, but don't worry! Its most important part of the process is writing an academic cover letter. Not sure where to start? Check out these academic cover letter examples for ideas and also how to write cover letter. Each one is tailored to a specific type of position, so you can find one that fits your skills and experience. Plus, they're all written by professionals, so you know they'll make your application shine. Read on to get started!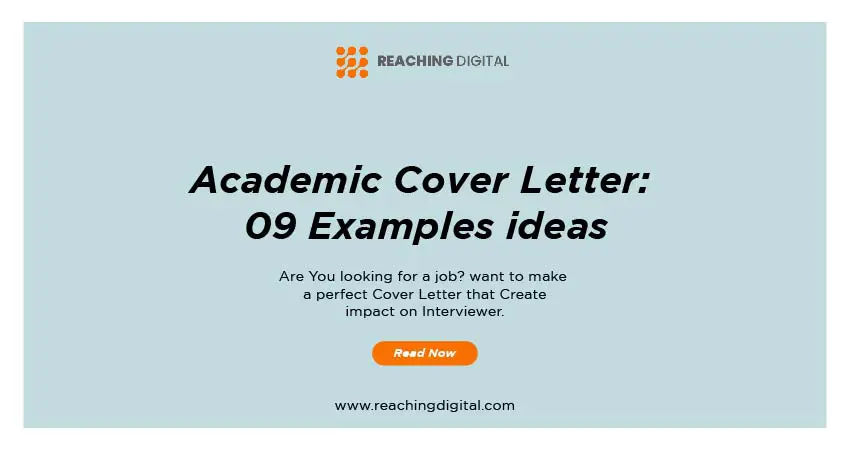 Academic Cover Letter Examples
Dear Sir/Madam,
I am writing to apply for the post advertised on JobSite (12 May), having seen that there is a vacancy for an individual with my skills and experience. Also I have completed some research regarding your school/organization which has really impressed me. It seems like an extremely proactive institution. Therefore I feel very strongly that I can make a significant contribution to the teaching of your students.
I enclose my CV as an application for this post, but wonder if it would be possible to arrange an initial meeting at some point so that I can present my portfolio and discuss with you further what my role may entail?
Look forward to hearing from you. Thanks
Yours Sincerely,
Personal Info: Name, Email, Address, Contact no.
Academic Advisor Cover Letter
Dear Sir,
I am an undergraduate student at [UNIVERSITY NAME]. Currently enrolled in the following course: BS-Computer Science. I have chosen to do my thesis on this topic because it is very much related to the work that you are doing. The title of my thesis is "Categorizing Travelogues According to Stereotypes in the Tourism Industry in [COUNTRY NAME]."
I wondered if I could have ten minutes of your time to discuss this further with you. Please let me know what times are good for you, and I'll try my best to accommodate.
Please take a look at the attached resume which contains all relevant information about me. Thank you for your time and consideration.
Best,
Cover Letter for Academic Position
Dear Hiring Manager,
You advertised a position for a Social Studies Teacher at the local middle school. I am applying for this position because I believe that working with children is my calling. I have always been passionate about education and love to see students excited about learning material they find interesting. In my courses throughout college, I have had ample opportunities to work with students of all ages and abilities. And I take pride in the relationships that I have built with them. For me, teaching comes naturally because I know how it feels to be a student in a classroom setting.
I have been very fortunate to have great teachers throughout my education from elementary school through high school. In college, one of my favorite courses was History of Education where I got to analyze some of the best education practices throughout history. This course inspired me to discover my passion for differentiating instruction and connecting with students at their level in order for them to become active participants in their own learning process.
I would love the opportunity to speak with you about how I can support your mission of challenging and empowering students to become lifelong learners and effective communicators in their communities. And I believe that the skills and knowledge I gained throughout college will be a great asset in helping me succeed in your school setting.
Look forward to hearing from you soon! 
Sincerely,
Name:
Address:
Phone number:
Email:
Cover Letter Academic Job
Respected Sir/Madam,
I am writing to apply for the position of <position title>. Found your advertisement on <website/magazine> and believe that my qualifications and experience make me a good candidate for this position. I have enclosed my CV as well as reference letters from my previous employers with this application, but please note that they may be sent separately by post. <possible follow up sentence>
My degree provided me with the opportunity to gain practical experience by working on a number of individual or group projects that I managed from inception through to completion.
I enclose copies of my certificates/transcripts for the degree courses that I have completed at university, but please note that they will be sent to you by post.
Sincerely,
Name:
Address:
Phone number:
Email:
Academic Cover Letter Sample
Dear Sir/ Madam,
I would like to offer myself as a potential candidate for your advertised position.I am currently undertaking research in the field of __________ . My topic is exploring __________ . I have significant experience in this area, having completed my PhD thesis on the subject which has received widespread acclaim with many journals even calling it "groundbreaking" or "innovative".
I am aware from my recent research that you have been doing a lot of work in a closely related topic and I am very interested in joining your team. Find the idea of combining both areas particularly appealing and feel that it would enable me to take my research even further.
My skills in this field are extensive, having written many academic papers on the topic. I also have extensive knowledge in __________, which is central to your research. Most recently, I was given an award for my paper exploring (list down some of them)
As someone who has always thrived in team environments, I feel that I would be a perfect addition to your company. The prospect of working with you and your team is particularly exciting.
I would love the opportunity to come in for an interview at your earliest convenience and discuss the position with you further. I will contact you soon for this purpose.
Thank you very much for reading my cover letter, I look forward to hearing from you soon.
Yours sincerely,
Personal Info: Name, Email, Address, Contact no.
Academic Cover Letter Template
Dear Sir, Madam,
I am writing to enquire about the possibility of coming to your institution as a Ph.D. student. I was first introduced to the topic of (insert error: this is not clear enough) after studying (insert error: this is too general) at university and have since come to be very interested in it. Indeed, after further study at the postgraduate level, I am certain that (remedy the error) is something which I would like to make my life's work.
I have read with great interest the research which you have been conducting in this area and am especially drawn to the work carried out by (insert error: don't name everyone) from your department. If I were to be given a place on your program. I would hope to build upon this significant work and contribute my own ideas into the field.
I feel that coming to study at your university would be a very exciting opportunity and I am very interested in continuing to explore (insert error: try to use only one or two words) the research area.
Yours faithfully,
Name, Email
Cover Letter Academic Job
Dear Sir/Madam,
I am writing to express my interest in the summer internship advertised on your website. I have recently completed my Bachelor of Health Science, majoring in nursing at Stellenbosch University and doing a minor in psychology at Stellenbosch College. My first-hand experience with clients suffering from mental illness gives me the drive to develop further as a professional nurse.
My clinical practice during my third year of study at _____ University consisted of assisting in the psychiatric unit on a male and female ward. As well as being attached to the emergency mental health service. I was involved in direct patient care with a primary focus on medication management and side effects, but also on assessment and general nursing care.
During my clinical practice, I have gained insight into the mental health system in South Africa, which is currently under enormous pressure. My exposure to both private and state facilities has given me a good understanding of the resources, equipment, and medication available at Stellenbosch Hospital.
I have interest in working with People Can, as you are expanding your work within the community and I believe that my nursing qualification would make me a valuable addition to your team.
My skills include:
General nursing;
Medication management;
Basic first aid knowledge;
Ability to communicate clearly and concisely both orally and in writing.
I look forward to the opportunity of joining your team.
Yours sincerely,
Personal Info: Name, Email, Address, Contact no.
Academic Cover Letter Sample
Dear Sir,
The expression 'hero' is nowadays applied to a person facing tough times, and the situation becomes more complex when the word 'superhero' is introduced. In today's world, where there is an increasing need for people to be ethical and moral, the traits of superheroes from comic books have become a point of discussion among students at all levels. A hero is someone who gives us hope in times of trouble, and it is these people that we look up to.
I have recently completed my MBA in marketing from a well-known institute in Chennai. Currently working with a private firm as an assistant manager. Pursuing MBA was a major step that required me to work hard for two years. I am glad that the effort has paid off well and I have received my first promotion.
I understand that your institute is looking for an intern, and I would like to apply for the same. Your program offers great opportunities for people who want to explore their future prospects in the field of business management. I am confident that the internship will be a great learning experience for me as well as an opportunity to prove my skills.
It would be a pleasure for me if I get selected as one of your interns at your esteemed institute. I look forward to hearing from you soon. Thank You.
Regards,
Name:
Address:
Phone number:
Email:
Sample Application Letter for the Post of Assistant Professor
Dear Sir/Madam,
I am writing to you because I have recently heard great things about your organization and its role in the current academic community. My name is ____, and I am a recent graduate of ____________ University with excellent grades.
Applying for the position of assistant professor at your university due to my strong desire to teach and conduct research full-time. I have interest in your institution because of its strong reputation, excellent faculty, and desirable location. Also I believe that I can contribute to your program with my strong academic background combined with outstanding teaching abilities. If you have any questions about my experience or qualifications. So Please feel free to contact me at 555-555-5555 or by email at josh@mail.com.
I would love to set up an appointment so that we can discuss this opportunity further. I have attached my resume for your review, and I look forward to hearing from you soon.
Sincerely,
Name
Conclusion
I hope this article has been helpful in your quest to find the perfect cover letter for you. No matter what field of work, it's important that you are able to introduce yourself with a compelling document that is well-written and professional. The examples provided can help inspire ideas for crafting an effective academic cover letter tailored to your needs. Let us know which one you liked best or if there was something else in particular you were looking for in order to make it easier on both of us!