it's important to know exactly what you want for your next career step. It saves time and money, so always write out a few different possible objectives. You can use these as an example if necessary. Some people like to mention their skills in their unique librarian resume objective ideas, others prefer to stick to the facts. It's important to consider this when writing your objectives.
Check out these sample resume objective ideas for some inspiration. A good idea is also to list your education again here, or maybe you have more certifications that are relevant? You can get really creative with librarian resume objective ideas, but it's also a good idea to keep them relatively short.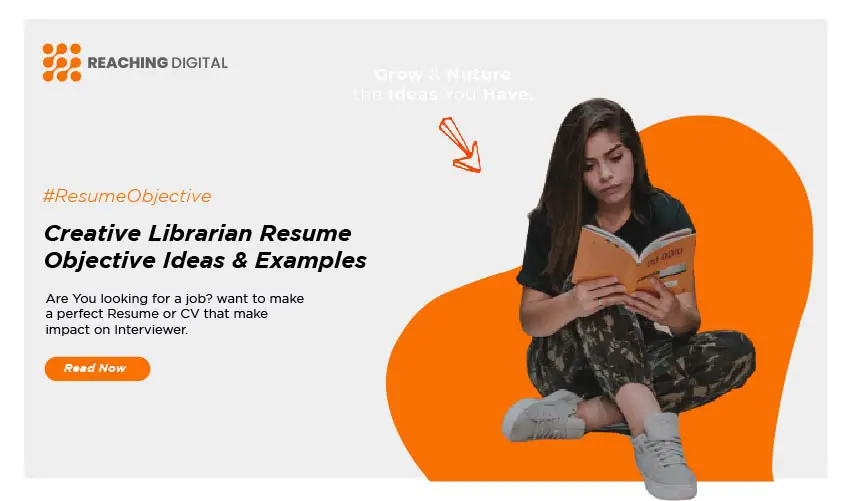 Library Assistant Resume Objective
Educated, experienced librarian seeking a position within your great company that will allow me to utilize the knowledge and skills I have acquired over the years.
I am an energetic, detail-oriented professional with strong communication skills and four years of experience with digital resources and databases.
I am pleased to submit my resume for your review as I believe my experience and skills will be a great match for your open librarian position. However my goal is to obtain a challenging position with an organization that values professionalism, confidentiality, and dedication
I have excellent computer skills including Word, Excel and relevant applications. Also I am able to work with a wide variety of software from different vendors.
Have been working as a librarian since 2009 and have a strong background in technical services. I am proficient in MARC records and can assist with Zinio or Serials Solutions products.
I have developed efficient strategies for providing efficient and effective reference services. Also Able to identify user needs, provide answers and utilize a variety of resources to complete my task.
I have excellent communication skills and can work under pressure if required. My experience with teaching students will be a great advantage in the workplace as well.
I am a dedicated individual with over 7 years of experience working as an administrative assistant. Have great communication skills, exceptional customer service and highly effective organizational abilities. So I feel that I would be a valuable asset to your organization.
Objective for Library Assistant
My strong technical background combined with my customer service skills and motivation would allow me to assist your company in reaching its goals and objectives. I am a friendly, team-player who is capable of working both independently and as part of a group.
I have acquired extensive experience in administration and management over the past 15 years and have been responsible for the implementation of new software and updates.
Librarian with 4+ years of experience seeking an entry-level position so where I can use my exceptional organizational skills, strong communication skills and attention to detail.
I have a bachelor's degree in library science and over 4 years of experience as a librarian. Looking for a position that will utilize my knowledge and skills to their fullest potential.
I am an energetic individual with over 20 years of experience working in administration.
My excellent customer service skills combined with my hands-on approach will allow me to be successful in your company.
I have extensive knowledge of library automation systems, including (name of software). Also I can help users select the most appropriate licenses for meeting their needs..
I have a bachelor's degree in library science with strong experience in cataloguing and processing. Looking for a position that will utilize my skills to their fullest potential.
Objective for librarian Resume
My passion is helping people, and as part of this I believe working with libraries would be very rewarding. Also a really good at project management, event planning and social media.
I have a strong background in librarianship and am looking for a new exciting challenge. I have experience with organization of activities, successfully establishing programs, as well as researching the latest trends and being part of new initiatives.
My skills include: excellent communication skills both verbal and written; basic understanding of web 2.0 technologies; customer service oriented, as well as strong interpersonal skills; experience with training new employees.
I have many years of experience in writing press releases and articles for newspapers, magazines and websites about topics related to the library field. I am looking for a position that will allow me to utilize my knowledge and skills to the fullest potential.
My work experience includes over 8 years of working as an educator in the field of librarianship.
I believe I am qualified for this position due to my extensive experience in cataloguing, organizing and processing materials. My strong customer service skills would allow me to assist your patrons with their needs.
My goal is to be a project manager that can understand business requirements and turn them into technical specifications for my team.
I have a strong understanding of continuing education, trends in the industry and information technology. I am highly motivated and knowledgeable with a bachelor's degree in librarianship.
Librarian Objective Resume
My experience includes being responsible for all training activities at the library where I worked, including orientation for new employees and management skills courses.
As a lifelong learner, I have a strong understanding of the industry and am always striving to be up-to-date with current trends. I have a bachelor's degree in anthropology and history as well as a master's degree in library science.
I believe my experience working as a librarian will allow me to utilize my skills at their fullest potential.
My experience includes managing the daily operations of the library including ordering supplies and training staff. Also have experience with processing checking materials.
I have spent the last 5 years working as a librarian in various types of libraries, but I am particularly interested in your company's needs.
I have four years of progressively responsible work experience as an assistant librarian and didactic cataloger.
My experiences include: general and specialized reference, including electronic; collection development; acquisitions; cataloging; instruction; training; supervision of staff and public services.
Career Objective for Librarian Resume
I am looking for a new challenge in the field of libraries where my knowledge and skills can be put to good use.
I am excited about the prospect of working with your company and would appreciate the opportunity to discuss how my skills and abilities will benefit your organization.
My experience includes successfully creating marketing plans, successful implementation of initiatives , establishing programs, research of latest trends , and being part of new initiatives.
I am a skilled writer and communicator, I also have strong customer service skills and can quickly build rapport with patrons .
I am a highly organized and motivated individual who thrives in a fast-paced environment and I possess excellent communication skills (both written and verbal).
My ideal job would allow me to apply my knowledge and abilities for the benefit of your organization .
Conclusion
That's it! 113+ creative and useful librarian resume objective ideas to help you land your next library job. While we can't guarantee that all of these will work for you, hopefully they give you a good starting point in crafting the perfect resume. Let us know which one is your favorite or if there are any other ones that should be added- just add them to our comment section below and so we'll get right on adding them into this post! Good luck with finding the perfect position at an awesome library near you!
Since there are so many creative librarians resume objective ideas, it can be hard to decide which one is the best for you. So take a look at these examples and see what resonates with your needs! If none of them seem like they would work well with your skillset or experiences, so feel free to leave us some feedback in the comment section below on what kind of information (or specific objectives) you'd like to see here. Therefore We're always looking for new input from our readers; we'll do our best to accommodate any requests that come through!