Want Catchy Career Objective for CSE Freshers Ideas? Every year, thousands of students graduate from universities with degrees in computer science and engineering. These graduates are immediately faced with the challenge of finding a job after graduation, whether it be their first or second job.
Many employers today require candidates to include a career objective on their resumes as part of the application process. In this post, we will discuss how you can write an effective career objective for your CSE resume that will make potential employers want to learn more about you as a candidate.
The blog post is targeted toward current CSE students who are interested in applying for a job once they graduate but do not know where to begin when writing a resume that would catch the attention of prospective companies and hiring managers. We provide advice on how you can make your resume objective effective and also give some ideas to inspire you.
Career objective is what you want to be in your career. It could be anything but it should give an idea about the kind of job you are looking for. Here are some ideas that will help freshers get a good start! As a CSE fresher, it is important to have an eye-catching career objective so that you stand apart from the crowd.
Tips to write Appealing resume objectives For CSE
Career objective is one of the most important parts of an interview. It is your chance to show that you are right for the job. When writing a career objective, it's important to focus on what you can bring to the company and how you will be able to contribute in the future. To help inspire your career objective, here are some ideas for CSE freshers:
Firstly, Be specific about what industry interests you (i.e., banking or finance)
Mention relevant skills (i.e., data analysis, programming languages)
After that, Talk about why this position excites you (this could be something like increased responsibility or exposure to new technologies).
Related: How to write an Appealing Career objective for resume?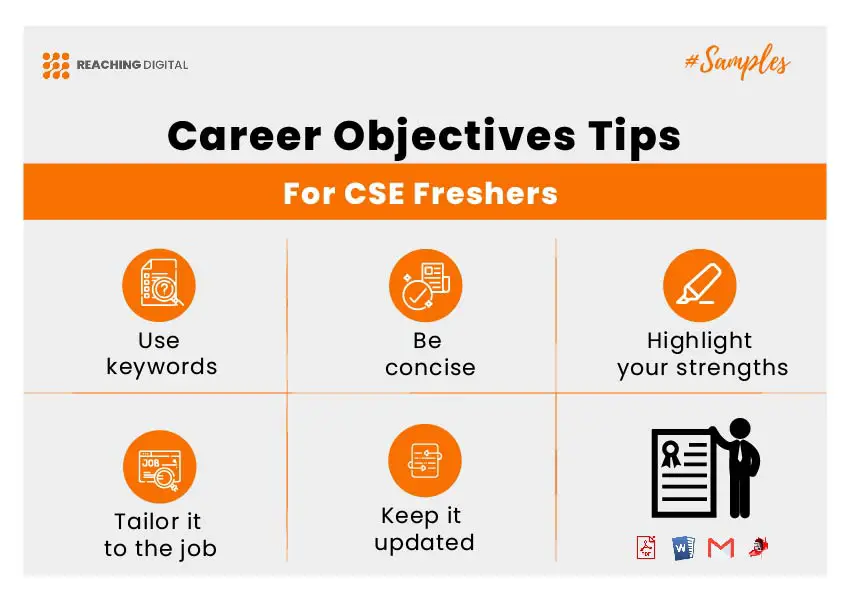 Career Objective for Freshers in Resume for CSE
I'm here to help you craft a catchy career objective that will set you apart from your peers and make it easy for recruiters to find you. I've done the hard work of crafting a bunch of ideas for CSE freshers, so all you have to do is pick one!
Passionate about designing complex applications using latest development platforms like .NET etc.
Love to learn how to work on Big Data environments.
Passionate about designing highly scalable and reliable distributed systems.
Passionate about building high performance, secure and scalable web based applications.
Concerned about learning new technologies in order to stay competitive in the industry
As you all know, the IT domain is booming and there are a lot of opportunities but at the same time it's very competitive. You need to be smart in order to get noticed by your recruiter or HR person. Therefore a good resume with an eye-catching cover letter can do wonders if written properly.
Related: Job Offer Letter For Computer Technician 7+ Templates & Samples
Career Objective for Btech CSE Freshers
No matter how qualified you are, the application process is a pain. It's always good to have some ideas on what can be done to make it less of a hassle for yourself and your future employers. This post will give you an idea of what type of career objectives work best in the CSE industry as well as some tips that might help with making this process easier for both parties involved. Here are some ideas
Interest in exploring emerging technologies like cloud computing and virtualization.
To learn how to use operating systems like Linux, UNIX etc.
Interested in developing large-scale distributed applications using the latest web technologies and Cloud Computing Frameworks.
Love learning a new programming language.
Seeking challenging opportunities to develop complex database-driven websites that can be used by people from all over the world.
To learn how to design, develop and maintain high-performing websites.
Concerned about learning new technologies in order to stay competitive in the industry
Interested in student community activities
Related: 111+ Creative Cover Letter Objective Ideas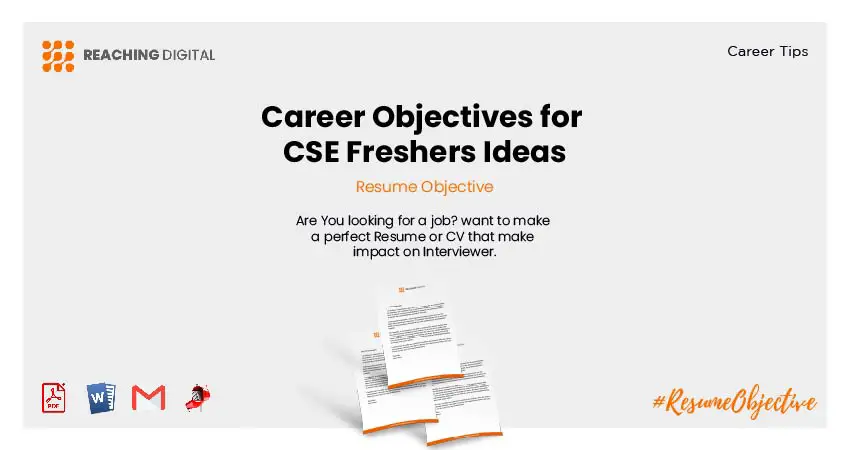 Resume Objective for CSE Freshers
Career objective is an important part of a resume to get shortlisted for any job. A career objective provides the reader with a brief idea about your personal qualities and what you intend to do in the future. As it is the first thing that catches attention, so it should be catchy enough to leave an impact on potential employers. The following are some ideas for CSE freshers which can help them write their career objectives:
To improve my work skills by learning new technology  
To learn how to solve complex problems using technology
Interested in developing web applications using the latest technologies like HTML5, JavaScript etc.
Passionate about designing games for mobile devices
Love to learn about new technology frameworks
Interested in developing iOS applications using the latest iOS Frameworks
Passionate about designing modern & scalable web infrastructures using open frameworks technologies like Node.js, Ruby, etc.   
To learn how to design, develop and maintain high-performing websites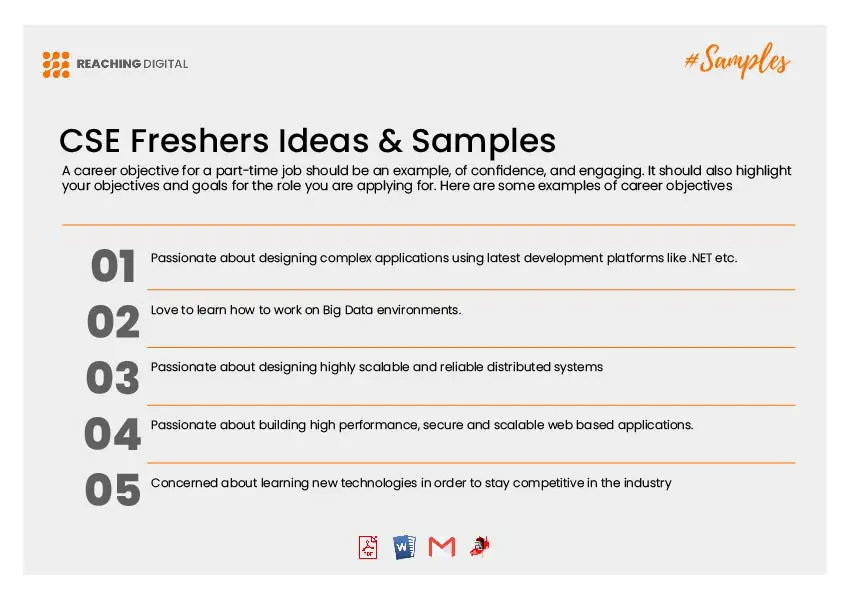 CSE fresher Career Objective
In the world of computer science, there are a lot of changes taking place on a daily basis. While there is always some exciting new technology to learn about and use in your own projects, it might be difficult to keep up with all that's going on. So the more you know about what's going on in this field, the better chance you have at landing a job. This article will give you some ideas for catchy career objectives for CSE freshers that employers will find attractive when looking through resumes.
I have an analytical mind, high motivation, and fearlessness that will allow me to excel in the fast paced world of marketing.
I am looking for a position where I can make a difference and contribute my ideas and creativity.
Have excellent leadership qualities which would be an asset in management or training positions
I have the skills that you are looking for in an entry-level position because of my leadership skills, dedication, and communication.
My greatest ambition is to become a business leader in my field, and this job would provide me with the training and opportunities to realize my dreams.
I am a young professional who is looking for a challenging career in a company where I can make a difference.
Interested in exploring emerging technologies like cloud computing and virtualization.
I possess an MBA degree from XYZ university, solid communication skills, and proven leadership ability that will contribute positively to any marketing or business organization.
CSE fresher Resume Objective
CSE fresher Resume Objective is one of the important parts in cv. An Objective is one thing that makes your professional document stand out from others. There are so many samples online but among them all, your objective should clearly state what you want to do or where you want to work. So here is a list of CSE fresher resume objectives with their tips and suggestions for future
Interested in exploring emerging technologies like cloud computing and virtualization.
Love to learn how to work in Big Data environments.
Interested in learning new programming languages.
Interested in developing user-friendly applications using the latest development frameworks like Ionic etc.
Interested in developing mobile applications using latest mobile development frameworks.
ASSET Developer Products is a top company specializing in CSE training, placement & recruitment with CSE as their core specialization.
The Internet is transforming the world as we know it. Looking for a career opportunity that will utilize my skills and knowledge of web technologies to help make this happen.
I am interested in applying my expertise in data processing, systems analysis, and quality control to a growing organization.
I am a B.Tech graduate in Computer Science & Engineering. Have a keen interest in exploring opportunities to learn and grow with your organization.
Related: Cover Letter for Job Fresher: 09 Sample & Examples
Conclusion
In conclusion, We have compiled a list of career objectives that are sure to help you ace your first job interview. Remember, the objective is not just about what skills and abilities you possess. But also how those fit with the company's needs. I would like to help you craft a career objective that will get attention and show your potential employers the value you can add to their company.
So Comment below with some details about what kind of job, industry, location, and work schedule/hours you are looking for. From there we'll chat back and forth until we come up with an idea that works for both of us! Still, If you want more information on any specific topic or need some advice on how to write an effective CSE fresher's career objective, please comment below!