Have you ever applied for a job and had no response? You might be wondering why you never received a response or even an interview. One of the most common reasons is that your Application Letter for Employment was not up to par. In this blog post, we will discuss what an application letter is and how to make sure yours stands out from the rest. We will also provide some tips on what to avoid when writing your application letter. Lastly, we will give you a few examples of strong application letters that you can use as a template. Keep reading to learn how to write a cover letter!
When applying for a job, one of the most important things you can do is to submit a strong application letter. This document is your opportunity to sell yourself to the employer and explain why you are the best candidate for the position. In order to make sure your letter makes the best impression possible, follow these tips:
1) Start with a strong introduction that captures the reader's attention
2) Use clear and concise language throughout
3) Tailor your letter to each specific position you are applying for
4) Proofread it carefully before submitting it.
By following these tips, you can create a well-written application letter that will help you stand out from the competition and get hired!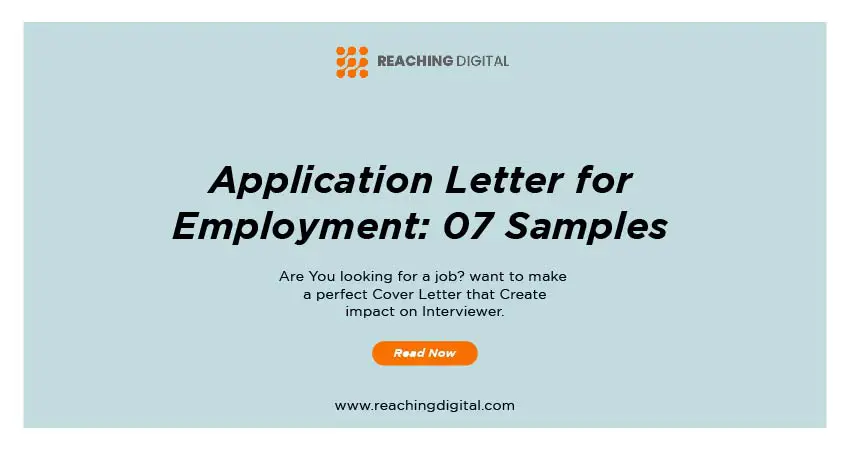 Best Application Letter for Job Vacancy
Respected Sir,
Subject: Application for the post of Marketing Executive.
I am writing to apply for the post Marketing Executive advertised in your newspaper dated 1st November 2012. As you can see, my resume is enclosed with this letter and I hope that through this way I will be able to explain myself better.
I have graduated from Govt College of Arts & Science, Thrissur. I have completed my degree in Business Administration with first class. So I have also secured second rank in all the semesters during the course of my Bachelors studies.
During my time as a student, I was associated with many societies and other cultural programmers. This helped me to build up good communication skills and also gave me the opportunity to interact with many new people. I was also actively involved in social services and I was associated with some charity organisations too.
These experiences helped me to learn not only about myself but also allowed me to understand how I can perform better in different situations, therefore it will be an added advantage for you if you recruit me. I am enclosing my resume with this letter for your kind consideration.
I will call you next week to discuss about the requirements of the post in detail, however if you require any further information before then I will be available for it.
Thanking You!
Yours Faithfully,
Your Name
Application Format for Job
Dear Sir,
I am writing to apply for the post of Receptionist which is advertised in (work-related newspaper). I am a hard-working and organized person who approaches every task with diligence and accuracy.
My work experience includes working as a receptionist at my last place of employment, (name of last place of employment) for several years. I am good with computers and at the same time, I'm very friendly which is why all visitors who came to the office were always pleased with my service.
I would bring lots of enthusiasm to your company and be ready to do any task that's given to me. So If you feel I am qualified for the post, please call me at (work-related phone number).
Thank you for your time and consideration.
Yours Sincerely,
For More: Best Application Letter for Job Vacancy: 09 Examples & Sample
Examples of Application letters for Employment
Dear Hiring Manger,
I am writing this letter to inform you that I am applying for the job opening you have posted on Monster.com. I believe my experience in
I'm grateful that you're considering me as a candidate for employment at your company. I'm writing to express my interest in the position and to provide you with a little information about myself:
I've included a summary of my qualifications and skills that make me an ideal candidate for your open position. Please take a moment to review this information, and feel free to contact me should you require further details or have any other questions.
Thank you for your time and consideration, I hope to hear from you soon.
Best regards,
Your Name
Application Letter for a job Vacancy
Hello Sir,
I have just read the advertisement in The New York Times about the opening of an editor at Mass Media LLC. As my qualification is exactly what you are looking for, I would like to apply for the position. My resume is enclosed. So I hope you will agree that it demonstrates my suitability for the job on offer
I am a 32-year-old woman with over ten years of experience in media. Have worked as an editor at Company Name. During this time, I have had to deal with all sorts of writing assignments. I am also well-spoken and can adapt easily to any circumstances.
I hope that you will consider my application. Also I understand the responsibility of an editor and will make sure that everything is done to the highest quality, every time. If you want someone who is excellent at their job, please call me for an interview. My telephone number is 555 – 999 – 9999.
I look forward to hearing from you soon.
Yours faithfully,
Name, Email, Contact No.
Application Letter for Employment sample
Respected Sir,
I hereby apply for the above mentioned post in your esteemed company with reference to the advertisement published on (insert date) . I am enclosing my resume along with this application letter as required by you. My aim is to make my career in the hospitality industry. I have enclosed my resume for your kind reference. The details of work experience are given below:
From (insert date) to (insert date) worked as a receptionist at Hotel ABC . After that, from (insert date) to (insert date) worked as a waitress at Hotel XYZ . I enclose my resume for your kind reference. Also I am sure that my working experience will be of great help to you in making the decision about my application.
My goal is to achieve more responsibilities and prove myself in this field of expertise. My abilities and skills will be an added advantage for your company so I assure you of my full commitment and dedication to all assignments. I look forward to joining your company at the earliest opportunity.
Thanking you,
Yours faithfully,
Name, Email, Contact No.
For More: Part Time Job Cover Letter: 09 Sample Examples
Application Format for job
Dear Sir/ Madam,
The purpose of this letter is to introduce myself and express my interest in applying for the position of [POSITION] at your esteemed organization. My professional goal is to utilize my skills and knowledge to contribute toward business excellence and to act as an integral member of the team.
I am highly motivated, professional and eager to contribute my expertise in [DEPARTMENT]. I possess exceptional knowledge in most facets of ABC, including but not limited to:
Customer Support
Inventory Management
Training & Development
I would welcome the opportunity to elaborate on any one of these areas during an interview. I am enclosing my resume for your consideration and would appreciate the opportunity so discuss potential career opportunities with you in the near future. Thank you kindly for your time and if I can be of any further assistance, please do not hesitate to contact me at 123-456-7890.
Yours Sincerely,
Name, Email, Contact no.
Conclusion
We hope these samples and examples of application letters for employment have been helpful. It can be difficult to know where to start when you need a resume or cover letter, so we wanted to provide some guidance on how best to craft your own personal story in the context of applying for jobs at various types of businesses. This blog post has provided you with a variety of examples and samples to help you create an application letter for employment. We hope this information will be helpful in your search for the perfect job opportunity, whether it's part-time or full-time. Have any thoughts on how we could make our content more valuable? So let us know below!