If you want to land the digital marketing job of your dreams, it's time to write a killer Digital Marketing Cover Letter. Your resume is important, but it doesn't tell the hiring manager who you are on an emotional level like your cover letter can. And if done correctly, this document will be what lands you that interview and secures you as their future employee! Here are some tips for writing a successful cover letter one so head over there now and get started! Remember, don't just read – put these ideas into practice by grinding out a draft before sending in any applications. Good luck with your search & we hope our guide has helped you find success today!"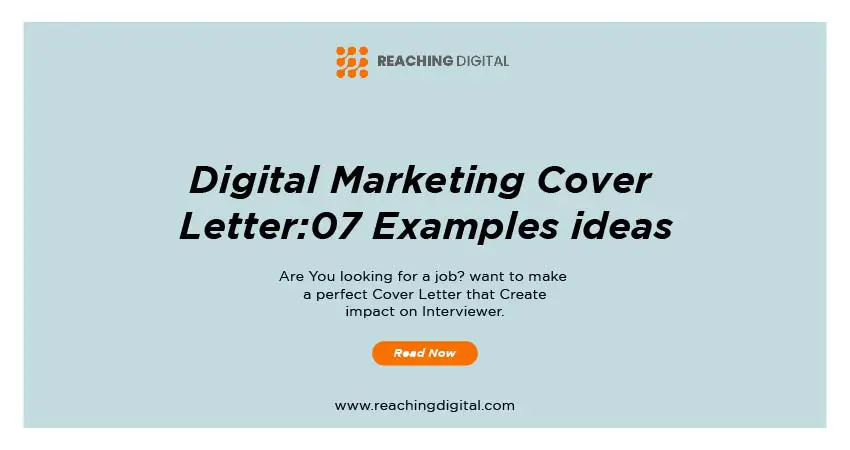 Digital Marketing Cover Letter Example
Dear Sir/Manager,
I am writing this letter to express my interest in the Digital Marketing Associate position that is currently advertised on your website. As a digital marketing professional with over 8 years of experience, I think I have the skills required to meet and exceed all expectations on this job.
You're also looking for someone with strong communication skills. As you can see from my resume. I proved myself with this quality during my internship at ABC Corporation when working with our global partners. I am able to work under pressure and meet strict deadlines.
At the same time, you are looking for someone who can manage different channels of communication, including social media, which is part of my daily job. My previous experience also includes managing marketing campaigns, conducting market research, and analyzing data to improve our customer's digital presence.
I am an accomplished writer with many years of experience creating content for B2B and B2C markets. This played a crucial role in helping me to expand my network within the industry and develop valuable business relationships with industry professionals.
I will be happy to come in for an interview at your convenience and am looking forward to hearing from you soon.
Yours sincerely,
Name:
Email:
Digital Marketing Manager Cover Letter
Dear Sir/Madam,
As a new graduate with a degree in digital marketing. I am writing to you to introduce myself and express my interest in the Digital Marketing Executive position advertised on Careers _______.
My academic interests have been predominantly focused on social media channels and how businesses can benefit from these tools. As a result of this course, I have developed a comprehensive understanding of digital marketing and how it can be used to support a business' marketing activities.
My key competencies include:
Developing and organizing social media campaigns with a focus on generating good quality leads
Optimizing organic reach on all platforms to ensure posts are seen by as many people as possible.
Using data to adapt a program's direction – in-house or with a vendor partner – in order to maximize its effectiveness.
Measuring the success of social media campaigns using engagement, statistics, and ROI.
I would like the opportunity to learn more about your organization and demonstrate my passion for achieving results and meeting targets. Because This is why I believe that you should consider hiring me as Digital Marketing Executive.
Sincerely,
Name, Email, Address
Digital Marketing Intern Cover Letter
Dear Sir/Manager,
I am writing to apply for the Digital Marketing Executive position advertised. As you will see from my attached CV. I have three years of experience in digital marketing consultancy with an agency.
I am looking to join a company that properly utilizes social media platforms and can provide me with room to grow – your company seems like it could be a great fit for this.
Because, I am proficient in the use of all major social media platforms and understand how to use them effectively to create viral content, generate leads and increase brand awareness. I have a proven ability to exceed targets and ensure a campaign's ROI is achieved within budget. 
My primary strength is my ability to exceed targets for clients whilst ensuring their brand stays in the spotlight at all times.  Because I think it's important that companies don't forget about potential customers when they're not actively engaging with them; this is something I've worked to avoid at all times. 
I am also proficient in the use of a number of traditional marketing platforms. Including Google Adwords, SEO, and email marketing.
I would love to discuss this role with you further and look forward to hearing from you soon.
Yours sincerely,
Name, Email, Contact#
Digital Marketing Cover Letter Sample
Dear Sir,
I am writing to request your consideration for the advertised position of Digital Marketing Executive. As a qualified and experienced candidate, I believe that my work ethic and innovative approach would be an asset to your company. The role requires excellent communication skills, tact and discretion. My resume demonstrates that I have all these attributes. My current employer is a PR agency. I am eager to join your business in order to gain experience in another marketing role.
According to your advert, you are seeking a team player who has the ability to work independently in order to achieve the company's marketing goals. I am confident that I will be able to demonstrate these skills with both my previous experience and academic qualifications.
I will contact you on Monday morning to arrange an interview at your convenience. My working hours would be 9 am – 5 pm, Monday – Friday (with some flexibility). I'm happy to attend any location convenient for you, or work remotely.
Yours sincerely,
Name:
Email:
Address:
Digital Marketing Specialist Cover Letter
Dear Sir or Madam,
I am writing to express my interest in the position of Digital Marketing Executive advertised on your website. So, I believe that my skills and experience are suitable for this position and that I can offer value to your company.
I have extensive experience in digital marketing, managing all aspects of social media channels for a wide variety of businesses. Because I am very familiar with key social media platforms. Such as Facebook, Twitter, and LinkedIn, and use various online tools to measure the success of campaigns. As part of my daily duties, I create Content Marketing campaigns for several brands via Blogs, Articles, and Company Websites.
I am proficient in SEO (Search Engine Optimization), SEM (Search Engine Marketing), and SMM (Social Media Marketing). So, I also have experience with Linkedin Advertising and Google Adwords. I am extremely organized, self-motivated, and detail-oriented.
Also I believe that I would be an asset to your company, and hope you will consider my application. I can be contacted at any time for further information or an interview. Thank you for your consideration,
Regards,
Name:
Email:
Address:
Contact#:
Digital Marketing Cover Letter no Experience
Respected Sir,
I have witnessed your firm's name being associated with excellent consumer products. It is, therefore, no surprise to me when I say that you are always on the lookout for new ideas. In order to further improve your existing products, and introduce new ones to the market.
My name is ___________ and I would like to express my interest in your firm's newest product development project.
I have developed a new method for optimizing search engine marketing campaigns. By incorporating multiple data points to create more targeted audiences, I can increase your sales by as much as 15%.
As my old boss used to say, "Great sales are built on great research." Please find attached an example of how I put this philosophy into action.
I am confident that my diverse skill set and considerable experience. In this field will enable me to contribute successfully to the success of your new product development project. And I look forward to hearing from you soon.
Sincerely yours,
Name, Email, Contact#
Cover Letter for Digital Marketing Internship
Dear HR Manager,
I am writing to you on the subject of the position vacant for a digital marketing analyst. I am also interested in this role as it will allow me to combine my creative flair with my analytical skills, which I feel makes me an ideal candidate for this role.
In addition, my enthusiasm and drive make me a personable team player who will fit well into the current culture of your company.
In my previous role as a customer service manager. I was able to establish strong relationships with clients and ensure that they were always satisfied with their experience. Because, I managed a variety of tasks simultaneously which taught me how to work under pressure and prioritize my workload effectively. Skills that will be invaluable in this position.
Because, My degree in marketing and my recent course studying web analytics has given me a thorough understanding of the ways that digital marketing can help drive your company forwards, and I feel confident that you will be pleased with the work I would carry out if employed by your company.
So, If there is anything else I can provide to demonstrate my suitability for this role. I would be happy to do so.
Yours sincerely,
Name,
Conclusion
We hope that this blog post has been informative and insightful for you. Further more As we continue to see more and more jobs requiring digital marketing skills, it becomes important for marketers to know how the field is changing in order to stay relevant. When writing your resume or cover letter, make sure you include strong examples of where you've applied these principles with success (such as a case study). You can also use our tips on what makes a great LinkedIn profile if appropriate! Good luck out there – happy hunting!