Do you want to work in investment banking? It's a challenging and competitive field, but if you have the skills and ambition, it can be a very rewarding career. The first step is to create a strong cover letter that will impress hiring managers. Check out our collection of investment banking cover letter examples for inspiration. We include tips on what to include and how to write your letter. With these tips, you can create a cover letter that will make hiring managers take notice!
it's important that you make sure your cover letter is up to scratch. In this blog post, we'll provide you with five examples of investment banking cover letters. We'll also give you some tips on how to write a successful cover letter. So, whether you're a current student or a recent graduate, read on for all the information you need!
For More: Good Cover Letter Examples: 07 Sample ideas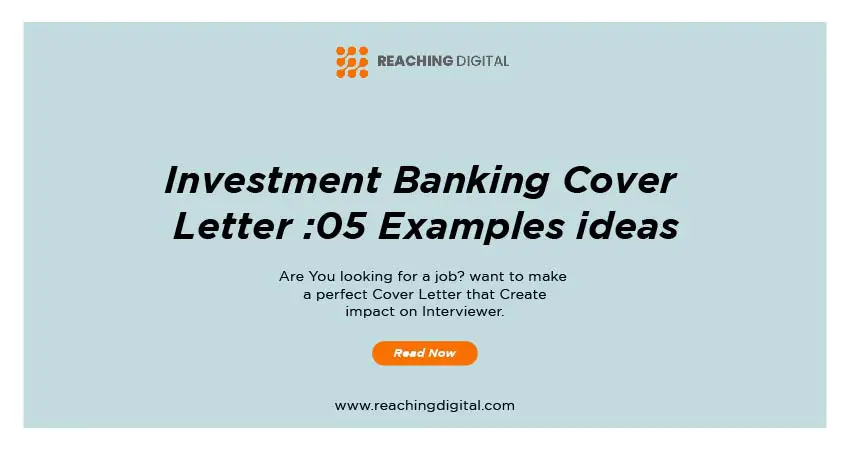 Investment Banking Cover Letter Template
Dear Sir/Madam,
I am writing in response to your advertisement for a position in investment banking. In particular, I would like you to consider me for the position of [JOB TITLE] at [COMPANY NAME].
In my current role as [POSITION], I have been responsible for ensuring that [BRIEF SUMMARY OF YOUR RESPONSIBILITIES], while overseeing the daily activities of [NUMBER] employees. As part of this role, I have worked closely with several major international clients to provide [DESCRIBE BRIEF PARTS OF THE JOB].
I am confident that my skills and abilities would allow me to fulfill many of the responsibilities outlined in your advertisement. Some of my professional achievements are outline below:
[BRIEF PARAGRAPH DESCRIBING YOUR RELEVANT ACHIEVEMENTS] [BRIEF PARAGRAPH PROVIDING SOME ADDITIONAL INFORMATION ON YOUR SKILLS AND ABILITIES]
I have attached my resume for your consideration. I would be happy to answer any questions you may have and can provide references upon request. Thank you for taking the time to consider this application and I look forward to hearing from you in the near future.
Sincerely,
Name, Email, Address, Contact #
Investment Banking Cover Letter Example
Dear Sir,
I am writing to express my interests in the Investment Banking Analyst position at your company, recently posted on Monster.com. I am fascinated by the markets and finance-related concepts are of great interest to me, but I have had limited experience with investment banking during my internships after graduation from college. As such, I believe that the best way to understand this field is through a more formal training program, and I have interest in being an investment banking analyst.
As mentioned on Monster.com, you seek someone with strong communication skills who is passionate about finance and new ideas. These are some of the qualities that I have developed during my college years taking business courses. I recently graduated from the best business school in New York, and I can provide you with my school's name upon request.
In addition to my coursework, I gained professional experience through several internships. Last summer, I was an intern at First National Bank of Omaha where I assisted with daily operations by processing loans and deposit transactions. During the school year, I participated in American Finance Association's case competitions where I used financial modeling skills to present recommendations for fictitious companies.
I would like to schedule an interview at your convenience so that we may discuss this opportunity further. I look forward to hearing from you soon.
Sincerely,
Name, Email, Address, Contact #
Investment Banking Internship Cover Letter
Dear Sir/Madam,
I am writing to apply for the post of an Investment Banking Analyst which was advertised on your website. Also I read about this position in the Sunday Times and feel that my profile is a good fit for this role.
I graduated with a 2:1 degree from XXXX University, where I studied Economics and Finance. My studies provided me with a solid foundation in all of the key disciplines necessary for this job. I also gained some relevant experience by working part-time at XXXX.
As your firm is expanding, I am confident that I can help build upon existing investment banking initiatives while also bringing fresh ideas. My temperament naturally lends itself towards delivering outstanding customer service; during my most recent role at __________, I was recognized for providing excellent service to clients and co-workers alike. Additionally, my strong work ethic has given me the flexibility to handle multiple tasks with ease, while still maintaining a high level of accuracy.
I would welcome the chance to meet with you so that I can explain my motivation in more detail and demonstrate why I believe I am well suited to such an important role.
Yours sincerely,
Name, Email, Address, Contact #
Investment Banking Cover Letter Sample
Dear Hiring Manager,
Your posting for a Financial Adviser Trainee caught my eye because I have been seeking a career in this industry. The position of Financial Adviser Trainee is similar to my current role as Assistant Manager at __________, so I am excited about the possibility of furthering my investment banking knowledge and advancing in a company that impressively fosters growth.
My skill set is well-suited for this position: I am a quick learner and energetic problem solver. I work hard and always exceed expectations. Working in an environment that values open communication. I regularly openly express my thoughts and concerns while actively listening to others. It is this collaborative mindset that has allowed me to excel in previous roles, and I would welcome the opportunity to contribute in this way at __________.
I value education and am constantly broadening my skillset through continuous learning: recently I completed the Certificate in Investment Banking from ( ) . As an investor yourself, I am certain that you would appreciate my determination to succeed, just as I admire your leadership and the innovative ideas that have contributed to __________'s success.
My experience in financial services has taught me how to handle pressure efficiently while remaining flexible enough to deal with emerging challenges. Please contact me if you would like to learn more about my qualifications and how I can make an immediate impact at your company.
Thank you for your time, and I look forward to the possibility of speaking with you in person.
Sincerely,
Name, Email, Address, Contact #
Investment Banking Cover Letter
Dear Hiring Manager,
I read with interest your posting for an investment banking analyst on the university career center website. I feel that my background and experience will make me a strong candidate for this position.
As a recent college graduate, I understand the challenges and rewards of working in the financial industry. Hope to apply my skills and knowledge to help your team succeed. I have always been interested in the financial world and recently developed a strong passion for investment banking.
At my university, I was involved with several organizations including Investment Club, American Finance Association, and Golden Key International Honour Society. Through these experiences I strengthened my knowledge of finance topics such as risk management, financial analysis, bank operations, and financial modeling.
I hope to meet with you to discuss my qualifications further. And would welcome the opportunity to contribute to your organization. I will call your office on Monday morning to inquire about setting up an interview time that is convenient for you. Thank you for your consideration, and I look forward to hearing from you.
Sincerely,
Name, Email, Address, Contact #
Conclusion
So, there you have it – five different ways to start your investment banking cover letter. We hope you found this post helpful and that it gave you some ideas for how to structure your own letter. Now it's time to put these tips into practice and create a document that will impress any hiring manager. Do you have any questions about cover letters or the job application process in general? Investment Banking Cover Letter examples are hard to find, but we have provided you with five of our favorites. We hope you've found this article helpful. If so, please share it with your friends and family on social media. You can also find more cover letter templates here!