Cover letters can be tricky business. How do you summarize your entire career in a few paragraphs? And more importantly, how do you make yourself stand out from the competition? Sometimes all it takes is one little tweak to make your cover letter shine above the rest. Check out this director cover letter for an example of how to make your qualifications heard loud and clear. With a well-crafted intro paragraph like this, you'll have hiring managers clamoring to learn more about you!
How To Write Creative director cover letter?
You've been in the advertising business for a while now and it's time to take that next step up the corporate ladder into a Creative Director role. But, as with any job application, the cover letter is your chance to make a good first impression. So, how do you write a cover letter that will grab the attention of hiring managers?
For starters, ditch the template. A generic cover letter is not going to make you stand out from the crowd. Instead, take the time to tailor your letter to the specific job you're applying for. Mention why you're excited about this particular opportunity and how your skills and experience fit with the company's needs.
Next, don't be afraid to show some personality. A creative director cover letter is not the time to be shy – after all, you're applying for a role that requires creativity! Use strong language and an engaging tone to capture the reader's attention and make them want to learn more about you. Finally, be sure to proofread your letter before sending it off. typos or grammatical errors will only serve to weaken your application.
With these tips in mind, you can Write a creative director cover letter that will have hiring managers eager to learn more about you. So get writing and good luck!
Related: How To Write a Cover Letter (And Get Hired in 2022!)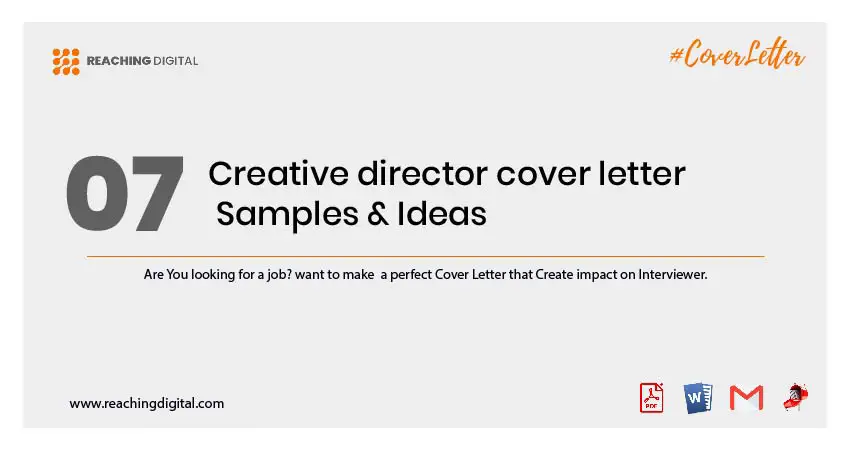 Cover Letter For Director Position
Dear Hiring Manager,
I am writing to apply for the open Director position at your company. As an experienced leader with a proven track record of success in various organizations, I am confident that I can be an asset to your team.
Some of my key strengths include:
Excellent communication and interpersonal skills
Strong organizational and time management abilities
Ability to motivate and inspire others
Creative problem-solving skills
High level of experience in the field
I would love the opportunity to discuss my qualifications further with you. Please do not hesitate to contact me at____________. Thank you for your time and consideration.
Sincerely,
Your Name
Related: Engineering Cover Letter: 10 Examples & Samples
Art Director Cover Letter
Related:
Dear Hiring Manager,
I am writing to apply for the position of Art Director at your company. As an experienced and highly creative professional, I am confident that I can provide the vision and leadership needed to create truly compelling and effective visual campaigns.
Through my years of experience in the industry, I have developed a keen eye for detail and a strong ability to conceptualize and execute innovative ideas. I am also an excellent communicator and team leader, with the ability to inspire and motivate those around me to produce their best work.
I would welcome the opportunity to bring my skills and experience to your company, and contribute to your continued success.Thank you for your time and consideration.
Sincerely,
Your name
Related: 7+ Best Art Director Cover Letter Examples
Creative Director Cover Letter
Dear ___________,
I am writing to apply for the position of Creative Director at _______________. I am a highly creative and experienced marketing professional, and I believe that I would be a valuable asset to your company.
In my current role as Senior Marketing Manager at __________, I have been responsible for managing a team of creatives and overseeing all marketing initiatives. Have successfully led projects from concept to completion, and I have a track record of increasing brand awareness and driving sales growth.
The confident that I can bring my experience and expertise to_______________ and contribute to the success of the company. I am eager to utilize my creative skills to develop innovative marketing campaigns that will help____________ to achieve its business goals.
Thank you for your time and consideration, and I look forward to speaking with you soon.
Sincerely,
Your name
Related: 109+ Creative Carpenter Resume Objective Ideas & Examples
Marketing Director Cover Letter
Dear ___________,
As a marketing director, you know the importance of promoting your company's products and services. You also know how to create an effective marketing strategy and execute it flawlessly. Your skills would be an asset to any organization, and your resume should reflect that.
When writing a cover letter for a marketing director position, be sure to showcase your ability to develop and implement marketing plans, as well as your creativity and innovation. Also, highlight your experience managing a team of marketing professionals and overseeing all aspects of the marketing department.
If you can demonstrate that you have what it takes to be a successful marketing director, then you will be one step closer to landing the job you want.
Sincerely,
Your name
Related: Marketing Cover Letter: 09 Samples & Examples
Sales Director Cover Letter
Dear hiring manager,
I am writing in regards to the open Sales Director position at your company. Based on my skills and qualifications, I strongly believe that I am the perfect candidate for this role.
As a Sales Director for over 10 years, I have extensive experience leading and managing sales teams. I am also well-versed in developing and implementing sales strategies, as well as overseeing the entire sales process from start to finish. In addition, I have a proven track record of achieving quota and driving revenue growth.
I am confident that I can bring the same level of success to your company. With my experience and expertise, I am certain that I can contribute to the growth and success of your organization.
Thank you for your time and consideration.
Sincerely,
Your Name
Related: Perfect Cover Letter: 07 Templates & Examples
Communications Director Cover Letter
Dear Hiring Manager,
I am writing to apply for the Communications Director position at XYZ Corporation. As an experienced communications professional, I am confident that I can make a significant contribution to your organization.
In my current role as Communications Manager at ABC Company, I have developed and executed effective communications strategies that have helped to increase brand awareness and drive business growth. The skilled in all aspects of communications, from media relations to content marketing to social media. I am also an experienced project manager, capable of coordinating complex initiatives on time and on budget.
The Believe that my skills and experience would be a valuable asset to XYZ Corporation. I am eager to put my skills to work in a new environment and to help your organization achieve its communications goals. I look forward to discussing my qualifications with you in further detail.
Sincerely,
Your Name
5 Things To Include Creative director cover letter
Any good creative director knows that a successful cover letter is about more than just listing your qualifications. It's also an opportunity to show some personality and give the hiring manager a sense of who you are as a creative professional. With that in mind, here are five things to include in your next creative director cover letter:
A strong opening hook. Start your letter with a bang by grabbing the reader's attention with an interesting opening line.
A brief overview of your experience. In a few sentences, summarize your experience as a creative director and highlight some of your most successful projects.
Your vision for the role. Use this opportunity to share your ideas for how you would approach the role if hired. What kind of creativity would you bring to the team? How would you inspire others?
Specific examples of your work. Use specific examples to illustrate your point and show the hiring manager what you're capable of. If you have an online portfolio, be sure to include the link!
A strong closing statement. Finish strong by expressing your excitement for the role and reiterating why you would be the perfect candidate for the job.
Conclusion
The cover letter is your opportunity to show an employer that you understand their company and what they are looking for. It's also a chance to showcase your skills, personality, and writing ability. If you can do all of this while remaining concise and on-brand, you will have a great shot at landing an interview. I hope our creative director cover letter example proves useful as you work on crafting your own application materials. Good luck!