Cover letters can be a great opportunity to show off your skills and personality. They're also a way to target the company you're applying to and make it clear why you want the job. With that in mind, we hope these tips will help you write an amazing marketing internship cover letter that stands out from the rest! The cover letter is your first opportunity to make a good impression on the company you are applying for. If it's lackluster, they may not even bother reading the rest of your resume! In this blog post we've given some helpful tips on how to write cover letter and samples that will get you started in creating an unforgettable cover letter.
If you're looking for a marketing internship, you'll need to submit a cover letter with your application. But what should you say in your letter? Check out these ideas for inspiration! Marketing internships can be a great way to gain experience in the field, and they often lead to full-time jobs. So it's important to make sure your letter stands out. Start by introducing yourself and explaining why you're interested in the internship. Be sure to mention any projects or organizations that you've been involved in.
When writing yours cover letter, keep these points in mind- be concise with details about yourself, highlight relevant experience from past jobs or internships, emphasize why you want the position at this particular company specifically (they'll know if its just any job), and talk briefly about what skills & qualities set you apart as someone who would excel there. And lastly, thank the reader for their time and express your interest in hearing from them. With these tips, you're sure to create a cover letter that will impress any employer!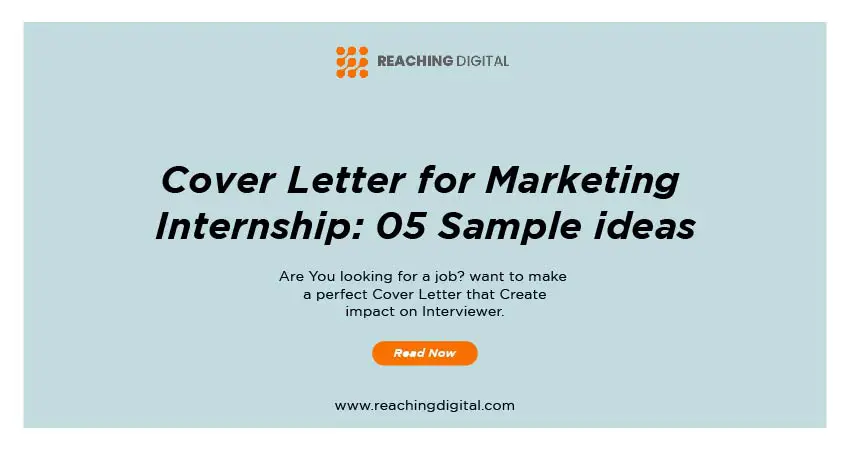 Marketing Internship Cover Letter Examples
Dear Sir/Madam,
I am an enthusiastic and responsible graduate, writing this letter for seeking your employment as Marketing Intern. I was fortunate enough to complete my education with a Bachelor of Commerce Degree majoring in marketing at ___________ University.
During my studies I became interested in the use of marketing within the business community and also found understanding how it will benefit the client the most an interesting concept.
I have always had an interest in the business world and what makes a company successful. I believe that understanding the marketing strategy of any company is crucial to its financial growth. Marketing is one of the key elements that can bring about this success or failure. Through my studies, I have learned how to research these concepts by studying the different activities and operations of companies.
I would be grateful if you could give me the opportunity to work in your company. So I can apply my education to real-life situations that will benefit me and the company. Please find attached my CV for your consideration. If there is anything else I can do to add to my application, please do not hesitate to contact me. I look forward to meeting you in the near future and discussing your current needs.
Yours sincerely,
Name, Address 1 Address 2 City, State ZIP Phone Number Email Address
For More: Sample Cover Letter for Resume: 10 Example & Template Included
Cover Letter Examples Marketing Intern
Dear Sir/Madam,
I am writing in response to the marketing internship opening listed on your website. As this interest grew, I began to investigate further into my future career prospects by following up with the advertising industry and found that it would suit me best because of its creative side. This is where I would like to begin my professional working life in order to fulfill my potential within a company that compliments my skills and abilities.
I have performed well throughout my college years because I've acquired verbal, written. And interpersonal skills which make me an effective communicator as I am able to express myself clearly and confidently in both formal and informal situations. I also feel that these skills will enable me to work as part of a team as I am always keen to learn new skills and gain knowledge through other people's experiences.
Please find enclosed my resume for your consideration. I believe that my qualifications match well with what you are seeking for this position. My skills, experience, and education would make me an asset to your company. If you have any further questions about my background, please feel free to contact me at your earliest convenience.
I look forward to discussing internship possibilities in greater detail and thank you for considering my qualifications in this matter.
Best regards,
Name:
Email:
Address:
Contact#
Digital Marketing Intern Cover Letter
Dear Respected Sir,
I hope you are doing well, and this letter finds you in the best of health. I am writing this letter with regard to your advertisement for a marketing internship at Carter Corp.
Your company seems very impressive from what I have studied about it on the internet, and these changes make me believe that my qualification will be invaluable to your business. I have considerable experience in several areas of marketing, having worked as an intern for two summers at my university's hospital.
I am currently completing a bachelor's degree in computer science, and I believe that this background has taught me the skills necessary to become successful in business. Also I would appreciate being considered for this opportunity with your company, and I hope to hear from you soon.
Please reply.
Sincerely,
Name & Personal info
For More: Job Application Letter Sample: 07 Templates & Example ideas
Cover Letter for Digital Marketing Internship
Dear HR Manager,
I am a senior marketing major at ______________ University with a 3.8 GPA and over two years of experience in the field. I have a passion for marketing and a strong desire to learn more about companies' brand strategies, new products, and how they incorporate social media into their overall marketing strategy.
With my diverse skills from working with a variety of marketing campaigns and my conversations with various companies in the field, so I feel that I can help your company grow and develop a strong customer base by offering creative ideas for marketing strategies.
It would be my honor to contribute experience from working on marketing campaigns at both ___________ and ___________. In addition, I have been involved in several other marketing campaigns for non-profit organizations both on campus and in the surrounding community. I have experience with social media, advertising, promotions, event planning, and more. If you are interested in learning about my skills firsthand, please contact me at 555-555-5555 or email me at ___________. Thank you very much for your time and consideration.
Sincerely,
Name & Personal info
Cover Letter for Marketing Internship with no Experience
Dear HR Manager,
While I was studying at university, I researched the topic of "How to make your resume stand out during a job search." This research helped me write this cover letter which you can use as an example for applicants applying for a marketing internship.
The first paragraph of my cover letter includes details about my experience working at on-campus events. It also includes a reference to two campus clubs I was involved in and the projects that I undertook as part of those groups.
The second paragraph is focused on my professional experiences outside of the university, specifically those related to marketing. It includes references to conferences and seminars attended, as well as online courses completed.
I also provide details about my hobbies and interests. The third paragraph focuses on my academic credentials which include a number of awards won during my time at college. Finally, I summarize by explaining why I believe that this position would be a strong fit for me and how my experience makes me well-suited to the role.
Thank you for your consideration,
Signature
Name
Conclusion
So, there you have it! Three great tips for writing an outstanding marketing internship cover letter. Also we hope these ideas help you create a letter that stands out and shows the hiring manager just how excited you are about the opportunity. So i hope it helps clarify any questions you may have about marketing internships. If there's anything else we can do to help, so please don't hesitate to reach out! Therefore, Do you have any questions or thoughts to share? Let us know in the comment section below. And good luck on your job hunt!