Are you looking for a new Cover Letter for IT Job? So check out these great cover letter ideas to help you get started! These letters can help show off your skills and experience and make you stand out from the crowd. Use them as a starting point to create your own letter, or adapt them to fit the specific position you are applying for.
Cover letters are an important part of the job application process. They give you a chance to show off your skills and explain why you would be a great fit for the position. If you're looking for ideas on how to write a cover letter for an IT job, you've come to the right place! We'll provide some tips and examples that will help you stand out from the crowd. So don't wait any longer – get started today!
We're in the IT industry, so we know how hard it is to find your dream job. That's why we love helping people get their foot in the door with our cover letter writing service. We want you to succeed and will do whatever it takes to help you land that perfect job! You don't have time or patience for cover letters? So let us take care of all your needs by providing an amazing cover letter that will impress any hiring manager! Our team has years of experience writing high-quality, engaging content that gets results.
For More: 107+ Best Resume Objective for IT Professional Ideas & Examples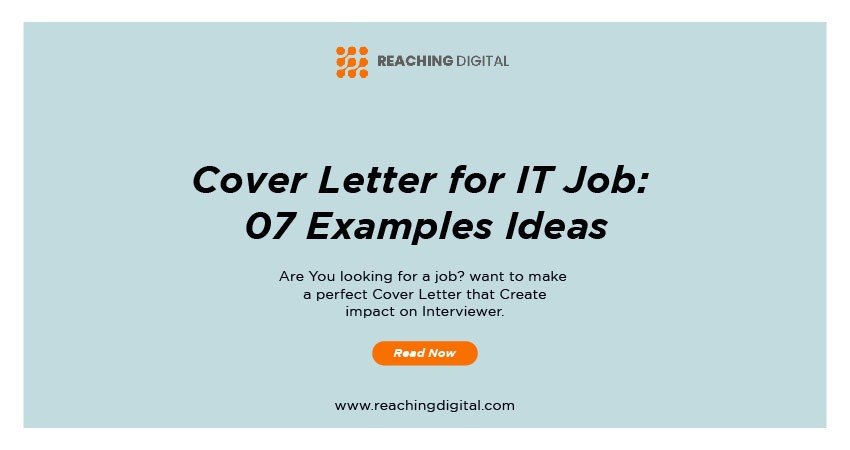 IT Cover Letter Examples
Dear hiring manager,
I'm writing to express my interest in the IT Developer position recently posted on Monster.com. Having a strong background as a developer and Linux system administrator, I'm confident I'd be a good fit for your team.
As a skilled programmer with 5+ years of professional experience, I have been consistently complimented on my ability to architect large-scale, scalable applications. I have deep experience in a variety of computer languages and a history of developing web-based systems for the state government.
Since completing my Bachelor's degree in Computer Science from [University Name], I have been employed at [Company Name] where I have been promoted three times in five years, from entry to the mid-level developer.
I've included a link where you can view tutorials I've created for [Company Name]. For examples of my work, please see the attached resume. If you would like to schedule an interview, please contact me at [phone number] or via email at [email address].
Thank you!
Sincerely,
Name:_______, Email:___________, Address:__________Contact#____________
IT Specialist Cover Letter
Dear Sir/Madam,
I read in the Daily Herald that your company is looking to add a freelancer to its team. I'm very interested in this position and would like to offer my service to you!
My name is [NAME] and I've been working as a web developer for [NUMBER OF YEARS] years now. During that time, I've had the opportunity to contribute to a number of different on-line projects and learn new skills. I'm very good with:
As you can see from my attached resume, I've worked as a freelancer for over [NUMBER OF YEARS] years now. I've had the opportunity to gain experience working on a number of different projects and have learned new skills along the way.
I'm also very passionate about what I do, which is why I always strive for 100% customer satisfaction.
If you'd like to discuss this position in more detail, please feel free to get in touch with me at [PHONE] or by email at [EMAIL]. I look forward to hearing from you.
Best regards,
Name:_______, Email:___________, Address:__________, Contact#____________
Cover Letter for IT Job Application
Dear HR Manager,
I recently read the job posting for an IT Administrator in your company and I am excited to submit my application. My experience in network engineering, system administration, and support positions make me a perfect fit for this position. I have extensive knowledge of both Linux and Windows Server Operating Systems as well as virtualization technologies such as XenServer. In addition, I also have good knowledge of such security technologies as VirusScan Enterprise and LANDesk Management Suite.
I am proficient in the use of troubleshooting tools such as Wireshark, CLI, and Microsoft Network Monitor to identify network issues and resolve them efficiently. I also perform very well during high-pressure situations while working under extreme deadlines. So I would also like to express my enthusiasm for data security, which I feel is of supreme importance in an organization such as yours.
I provide references on request. Thank you for your time and consideration.
Sincerely,
Name:_______, Email:___________, Address:__________, Contact#____________
IT Support Cover Letter
Dear Hiring Manager,
I read in your ad for a Systems Admin that you were looking for someone with good communication skills and the ability to multitask. I know from my background of working at __________ and __________ that I can handle both with ease, as well as complete projects on time and within budget.
A little about me: My background is in __________, having earned my knowledge through the __________ program. I have a lot of experience working with _______ – I'm comfortable working with any operating system and application you can throw at me. I also have strong skills in documentation and project management – because it's important to make sure that our customers are happy, not just today, but five years down the road. So I am confident that I can hit the ground running with your company and contribute to your success. For further information, please feel free to call me at __________ or email at __________
Sincerely,
Name:_______, Email:___________, Address:__________, Contact#____________
For More: 125+ Creative Career Objective for IT Engineer ideas & Examples
IT Technician Cover Letter
Respected Sir,
I would like to express my interest in the Project / Network Analyst position that you have posted on ________. Also I am available at your convenience for an interview and I believe that my skills and qualifications are a good match for this position. As requested, please find below an introduction of myself as well as a list of my strongest skills and accomplishments.
My name is _________ (first name), I am (age) year old and currently reside in (city). Prior to moving here, however, I grew up in (country/state). After completing my degree at (college), I worked for 9 years as a(n) ___________. Some of the projects that I am most proud of are ________, _______ and _______. Have also had the opportunity to work on several other projects which have furthered my skills in __________ and ___________.
I am very excited by your request for ______, because it will offer me an excellent opportunity to combine my education with my professional experience. So I will bring to this position _______ (skills, knowledge, attitude, etc…). Furthermore, I am confident that my (years of experience/education level) in ______ along with my untiring enthusiasm and positive attitude will make me an invaluable asset to your team.
Thank you very much for taking the time to consider me and I hope to hear from you soon.
Yours sincerely,
Name:_______, Email:___________, Address:__________, Contact#____________
IT Manager Cover Letter
Dear HR Manager,
I was very impress with the IT Manager position list on your website and I am highly interest in applying. My qualifications as a software developer, as well as my previous job experiences as an IT Administrator and Network Engineer, make me the best candidate for this position. So I would like to meet with you to discuss how my experience could benefit your company.
My previous position was as a senior software developer. I worked with teams to develop new features for the company's main product using C#, .NET, and ASP. As part of this, I worked closely with our network engineers to implement new features because they were constantly changing how the product communicated with other hardware devices. Alongside my development work, I also handled our customer service and support.
I have been the sole administrator for a small office network for over four years now. In this role, I ensure clients' networks are running smoothly as well as keep them updated with any changes in technology. This includes updating company computers with new software and doing backups of data on each machine.
I have my A+ certification as well as my Network + certification. I am also knowledgeable about Cisco Routers and Switches, connecting them together with a cable.
As the IT Manager, you are looking for, I have quite a bit of experience in working with hardware devices on both small and large networks. I believe that my extensive qualifications and experience make me the perfect candidate to fill this position. I would like to set up an interview as soon as possible and learn more about your company and the IT Manager position.
Sincerely,
Name:_______, Email:___________, Address:__________, Contact#____________
Cover Letter for it job fresher
Dear Sir,/ Madam,
I am writing to apply for the position of ___________________ which was advertised on ________. At first glance, I feel that my skills and experience would be a good fit for this role, as they are largely related to the requirements listed in your advertisement.
My name is __________________ and I have over five years of experience in __________. I have a strong interest in all things _________, which is one of the main reasons I want to work for your company.
I also feel that my communication skills and ability to work well under pressure would be great assets to your team. Over the course of my career, I've achieved several milestones, including ___________. These achievements have given me the confidence to pursue a career in your organization because I believe that they are fully aligned with your company's goal of _________________.
I am thrilled about the possibility of joining your team and feel that my skills would be an asset. Also I would welcome the opportunity to further discuss my suitability for this role in person and can be reached at ___________ or via email at ____________. I look forward to hearing from you soon!
Sincerely,
Name:_______, Email:___________, Address:__________, Contact#____________
Conclusion
So, hopefully this article gives you a few ideas for your next Cover Letter for IT Job. Keep in mind that the best letters are tailor to the specific company and position you're applying for. Do your research on the company and try to use some of their own language in your letter. So If you can make it clear that you understand what they do and how your skills match their needs, you're already ahead of the competition. And don't forget to follow our tips for writing a great Cover Letter for IT Job! Let us know how it goes. Do you have any questions about anything we talked about today?