If you're an accountant looking for a job, you know that your cover letter is one of the most important things you can send. Your cover letter is your introduction to potential employers, and it's important to make a good first impression. But how do you write a great accountant cover letter?
Accountants are in demand more than ever before. With businesses and organizations of all sizes requiring knowledgeable and skilled professionals to help manage their finances, it's no wonder that those with experience in accounting are in high demand. If you're looking for a new opportunity in the accounting field, or even just your first job as an accountant, be sure to take advantage of the following templates when writing your cover letter! These samples will help you how to create a letter that is sure to impress any hiring manager.
One option is to use a template. Templates provide a structure for your letter and make it easy to create a professional document. So You can find templates online or in books, or you can create your own. The key is to choose a template that fits your skills and experience and helps you highlight what makes you the best candidate for the job.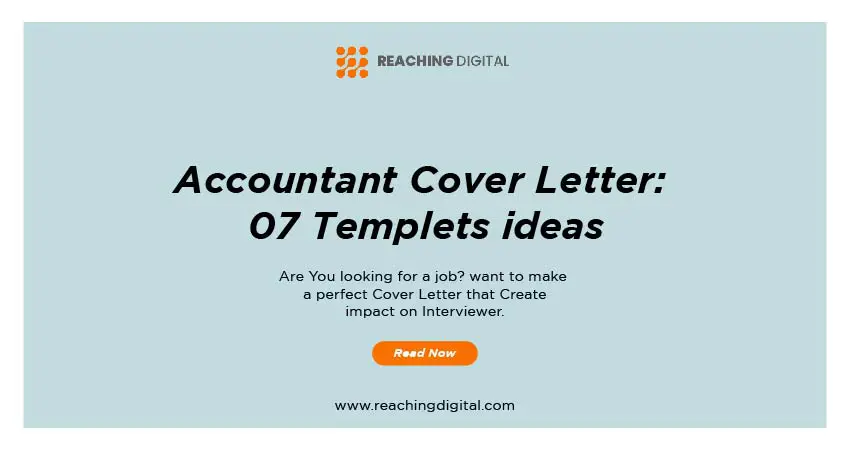 Accountant Cover Letter
Dear Sir/Madam,
Please see the attached resume for my application as an accountant. I believe I am the most suitable candidate for this position, due to my strong financial background and professional experience. My high level of commitment, creativity, and problem-solving abilities make me an excellent addition to your team.
In my current position, I have been responsible for the management of three different accounts. In total, this has involved a balance in excess of $3 million. During this time I have liaised with clients on a daily basis and implemented cost savings which have contributed to the overall profitability of the business.
Additional responsibilities include:
Firstly, Overseeing the company's accounts payable and receivable
Secondly, Ensuring all financial data is accurately compiled and entered into the system
Thirdly, Preparation of sales invoices, purchase orders, and receiving reports.
I believe that my proven track record as a successful accountant would be of great benefit to your organization. I look forward to working with you.
Sincerely,
Sender's Details:
Full Name
Address
Phone Number
Email
Cover Letter for Accountant Fresher
Dear Sir/Madam,
Please find my attached resume along with a cover letter. I am writing to respond to your advertisement for the position of accountant. I have extensive experience in accounting and finance, including three years as an accountant with a large manufacturing company, specializing in accounts receivable during a time of rapid growth. The quality of my work has been praised on several occasions by both my superiors and co-workers. I am an excellent communicator, able to explain the most complicated concepts in a clear and concise way. Outside of work, I enjoy playing golf and tennis.
I would appreciate the opportunity to meet with you to discuss how my qualifications can benefit your company and open up new opportunities for success. I will call you next week to schedule a meeting time.
Thank you for your consideration,
Sincerely,
Name, Email, Contact#
Cover Letter for Accounting Position
Respected Sir,
I am writing this letter to introduce myself as a candidate who should be given consideration for the accountant position. I have more than five years of experience working as an accountant and I believe that my background and skills meet your requirements. My goal is to work with you and contribute to the success of your organization.As an accountant, I am familiar with the following:
Preparing and analyzing financial reports
Achieving budget targets and maintaining cost controls
Making recommendations to improve company performance
Assisting in tax compliance
Tracking accounts receivable and payable transactions
Identifying potential risks and implementing effective controls to manage them
Preparing and monitoring budgets
Creating accurate financial records
My proficiency with these tasks will help you effectively manage your company's finances. I also have strong communication skills, which allow me to work well in a team and interact with others. As an accountant and bookkeeper for several organizations, my goal has always been the same: to ensure that the company's financial needs are met and that the organization runs smoothly. However I would welcome the opportunity to meet with you to discuss how I can contribute to your team.
I look forward to hearing from you soon. Thank you for your consideration.
Best regards,
Name, Email
Cover Letter for Accountant in Word Format
Dear Sir,
I have reviewed your job posting on Monster.com for an accountant, and I am confident that my qualifications are suited to the requirements you have indicated. My financial accounting experience is summarized in the resume attached with this letter.
Please find additional information regarding my career history, skills, ability to perform under pressure, interpersonal skills, education and training, abilities, and experience included in my resume.
I have enclosed a sample of the financial accounting work I have done, in both purchase-and-sales and general journal entries. This includes reconciliations to bank accounts, inventory, fixed assets, accruals, cash receipts, and disbursements among other things.
My career objective is to obtain a position in which I can utilize my financial skills and abilities in order to contribute to the overall success of the organization. I would welcome the opportunity for an interview at your earliest convenience when you have had an opportunity to review my resume and samples.
I look forward to speaking with you soon about this important matter and thank you for your time and consideration.
Sincerely,
Name
Assistant Accountant Cover Letter
Respected sir,
I have just seen your circular regarding accountant openings. Reading the requirements, I am really convinced that you are looking for an innovative candidate with a creative mind to balance accounts and reports. Maybe because of my diversified experience in both software and hardware accounts, invoicing, cash management, etc., I may prove to be the best candidate for the post.
I have attached my resume for your kind consideration. Hoping to get an opportunity to meet you personally in the near future so that I can discuss with you more about this position.
Thanking You,
Name: ______________
Address: ___________
Contact No.: __________
E-mail:___________
Accountant Cover Letter Sample
Dear Hiring Manager,
I want to take this opportunity to introduce myself as a candidate for the accountant position. Over my three years working as an accountant, Therefore I have developed efficient skills in Microsoft Office (Word, Excel, and PowerPoint), familiarized myself with tax laws pertaining to corporations and businesses, and draft budgets.
As part of my daily responsibilities, I have audited transactions to ensure accuracy, documented receipts for purchases and sales, reconciled accounts receivable reports against cash register tapes, created W-2 forms for employees at year-end, filed federal business taxes on time every quarter, worked with bank reconciliations to resolve ledger problems within a day or two after they occurred.
Additionally, I have worked with the company controller and CFO in resolving problems and adhering to guidelines set by our bank.
I believe my skills and experience make me a strong candidate for the accountant position at Acme Corp. So If you'd like to discuss this opportunity in greater detail, please contact me at (555) 555-5555 or via email at janedoe@gmail.com. I look forward to hearing from you.
Sincerely,
Name, Email, Contact#
Accounting Manager Cover Letter
Dear Sir,
I am glad to be considered for the accountant position at your esteemed company. And I believe that my five years of accounting experience (and specifically in this field) will give me the knowledge and skills necessary to succeed in this role.
I possess excellent skills in general ledger updating and reconciliation. My experience in cash application and reporting is strong, as well. I believe my overall accounting expertise will be an asset to your organization.
I am confident that my education, training, and qualifications relate directly to all of the job duties involved with this position. So Please find enclosed my resume for your review. I can be reached at 555-555-1212 or you can email me at your convenience.
My goal is to contribute my accounting expertise in a way that helps the organization continue its success and reach new heights. Thank you for consideration of my application. I look forward to hearing from you soon.
Sincerely,
Your Name, Email
Conclusion
So, what do you think? Are you inspired to write your own accountant cover letter after seeing these seven templates? We hope so! And if you need any help getting started, our team is more than happy to provide assistance. So In the comments below, let us know which template was your favorite or share your own tips for writing an amazing accountant cover letter.