An academic motivation letter is a document used to provide the academic reasons why an applicant deserves admission to the school they are applying for. Many schools require this type of essay in order to get an understanding of the applicant's drive and motivation to attend their school. This type of letter can also be used to help explain any low grades or test scores that may be present on the applicant's transcripts.
By providing a detailed explanation of the reasons behind any lower grades, the applicant can demonstrate to the admissions committee that they are still capable of being successful in their academics. For many applicants, the academic motivation letter is one of the most important parts of their application packet. By taking the time to craft a well-reasoned and persuasive letter. Applicants can increase their chances of being accepted into their dream school.
How To Write an Academic Motivation Letter?
When applying to an academic institution, one of the most important documents you will need to submit is a motivation letter. This letter is your opportunity to sell yourself to the admissions committee and demonstrate why you are the ideal candidate for their program. While there is no precise formula for writing a motivation letter, there are certain elements that should always be included. Here are some tips on how to write a standout motivation letter:
Begin by introducing yourself and explain why you are interested in the program. What are your goals and what do you hope to accomplish by completing the program? Be specific about what you want to study and why.
Next, highlight your strengths and relevant experience. What makes you uniquely qualified for the program? Be sure to mention any awards or accolades you have received, as well as any research or work experience you have in the field.
Related: How To Write a Cover Letter (And Get Hired in 2022!)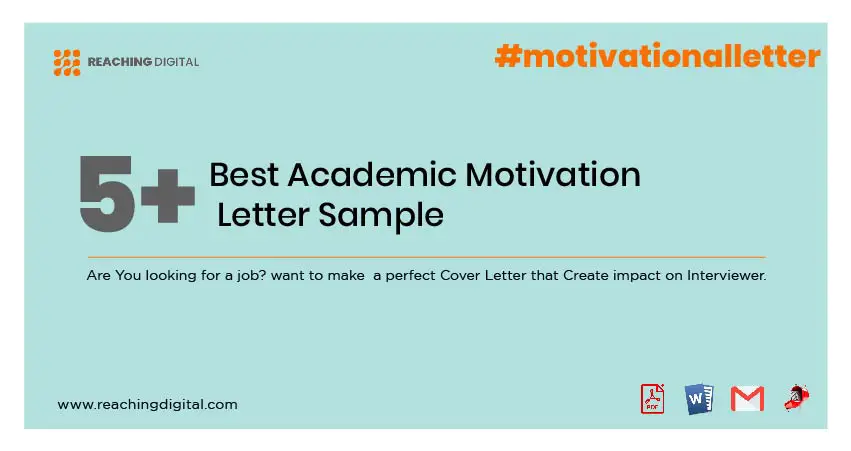 Academic Motivation Letter
Dear Admission Committee,
I am writing to apply to your esteemed university. I am immensely interested in pursuing my education in the field of ____________. So, I believe that your institution will provide me with the best possible resources and opportunities to develop as an outstanding academic.
Throughout my high school career, I have consistently demonstrated excellence in my academics. I have been actively involved in various extracurricular activities. I have also received numerous awards and accolades that attest to my academic achievements and potential. So, I am confident that I can bring the same level of dedication and commitment to my studies at your university, and contribute positively to the campus community.
I look forward to the opportunity of studying at your renowned institution, and hope to eventually make a significant contribution to the field of ____________. Thank you for your time and consideration, and I eagerly await your response.
Sincerely,
Your name
Related: Creative Motivational Letter for Learnership [7 Samples]
Sample Motivation Letter For Gender Studies
Dear Admissions Committee,
I am writing to apply to the Gender Studies program at XYZ University. This program is the perfect fit for my academic and professional interests. I believe that it will provide me with the skills and knowledge I need to pursue a career in this field.
I have always been interested in gender and sexuality studies. So, I have been active in advocating for gender equality both on and off campus. Also I am passionate about this field of study and I believe that it is important work that can make a real difference in the world.
I am confident that I have the skills and abilities to succeed in the Gender Studies program at XYZ University, and I look forward to contributing to the intellectual community here. Thank you for your consideration, and I hope to hear from you soon.
Sincerely,
Your Name
Related: 7 Best Contoh Cover Letter Samples [Free]
Academic Motivation Letter Example
Dear Scholarship Committee,
I am writing to apply for the academic scholarship. I have been a top student throughout my academic career and I am confident that I can maintain this level of performance in college.
The reason I am applying for this scholarship is because I cannot afford the tuition fees without financial assistance. I come from a low-income family and my parents are unable to help me with the costs of college.
I am confident that I have what it takes to succeed in college and I am determined to get a good education. So, I am asking for your help in funding my education and I promise to work hard to achieve my academic financial assistance. My parents are both unemployed and we are struggling to make ends meet. I would be grateful for any amount of money you can give me.
Thank you for your time and consideration.
Sincerely,
(Your name)
Related: Best Motivation Statement For UN Volunteer : 5+ Example
Motivation Letter For Academic Job
Dear Administrator,
I am writing this letter to apply for the open academic job position that you have recently posted. Based on my research and interest in the field, as well as my qualifications, I strongly believe that I am the ideal candidate for this role.
As a recent graduate of XYZ University with a degree in ABC, I have the knowledge and skills necessary to excel in this role. In addition, I have relevant experience working in a research-based environment, which has given me the ability to think critically and solve problems effectively.
I am extremely passionate about XYZ field and am excited to pursue a career in it. I am confident that I can contribute to the XYZ department in a meaningful way and am eager to utilize my skills and knowledge to further the department's research goals.
Thank you for your time and consideration, and I look forward to hearing from you soon.
Sincerely,
Your name
Related: 7+ Sample Motivation Letter for Masters Degree
Motivational Letter For University Scholarship
Dear Scholarship Committee,
I am writing to apply for the university scholarship.
As someone who has faced many difficulties in my life, I have learned the importance of education and how it can empower individuals to achieve their goals. I am passionate about learning and hope to continue my studies at the university level.
This scholarship would provide me with the financial assistance I need to pursue my studies and achieve my long-term goals. I am committed to academic excellence and would be a dedicated and enthusiastic student.
Thank you for your consideration and I look forward to hearing from you.
Sincerely,
Your name
Related: Best Motivation Letter Erasmus: 5+ Editable Samples
5 Things To Include In an Academic Motivation Letter
So, you're applying to an academic program and you need a motivation Letter. Here are five essential elements to include in order to make yours stand out:
Why you're passionate about the program: Everyone's motivations are going to be different, so it's important to share what has drawn you specifically to this program of study. What excites you about the curriculum? Are there unique research opportunities available that speak to your interests?
How your experience relates to your goals: The best motivation letters will demonstrate how your past experiences have prepared you to succeed in the program you're applying to. If you don't have a lot of directly relevant experience, that's okay!
Your long-term goals: Where do you hope to go after completing the program? It can be helpful to lay out a rough plan for how completing this degree will help you achieve your ambitions. This doesn't need to be set in stone – life happens and plans change.
Detailed research: Nothing says "I really want this" quite like taking the time to learn about the institution and program in depth. When discussing why the program is a good fit for you. Refer back to specific courses, faculty research interests, or extracurricular opportunities that align with your goals. This shows that you have taken the time to learn about what makes this particular program special and that you are confident it is the right place for you.
Your personal touch: Ultimately, what sets YOUR motivation letter apart from all the others is…YOU! Share your personality, values, and quirks throughout the letter so that readers get a sense of who YOU are as an individual.
Related: What is Cover Letter? Complete Guide To Get any Job.
Conclusion
I hope you found this blog helpful in understanding how to write an academic motivation letter. The best way to approach writing this type of letter is by personalizing it as much as possible and showcasing your unique skills, talents, and experiences. We wish you the best of luck as you apply to universities and we look forward to seeing your application!