Do you need help figuring out what should go on your Manufacturing Resume Objective? This article will show you some great ideas for creating an effective Manufacturing Resume Objective! It's important to know what skills and qualities employers are looking for in order to really set yourself apart when applying for jobs. We've got plenty of information about how to create the best manufacturing resume objective.
The manufacturing industry is a vast field, so it's no surprise that the resume objective of an applicant in this area could be unique. Whether you're looking to move into the industry or are simply trying to get your foot in the door at a new company, here are some great ways to write an effective manufacturing resume objective statement.
Resume Objective for Manufacturing Job
Are you looking for a way to stand out from the rest of the applicants? A good resume objective statement will help your application get noticed. These are some creative manufacturing resume objectives that might catch an employer's eye. Write up your own, or use one of these examples to help you with your job search. You can also visit this article on "How To Get Hired" for more ideas on how to find work and land that perfect job!
A team-oriented leader who has effectively managed and maintained personnel records along with successfully coordinating disciplinary actions, counseling sessions and performance reviews.
Innovative thinker with a proven track record of providing cost-effective solutions to ensure the success of projects from conception to completion.
Over 12 years experience as an innovator creating cutting edge designs for industrial manufacturing equipment.
Highly proficient in the use of CNC turning and milling machines, CNC lathes and CAD/CAM software including MasterCam, Vero/Edgecam and Solidworks.
Solid understanding of manufacturing processes from procurement to production.
Able to provide valuable input for projects and products through an awareness of market trends and drivers.
Highly Organized with a proven ability to meet and exceed production deadlines while maintaining new product accuracy and compliance to specifications.
I am an innovative thinker who has the skills, knowledge and experience necessary to take on any challenges you may have.
Documented history of increasing productivity through effective management of time, materials and personnel.
Exceptional track record in process improvement initiatives using lean manufacturing techniques.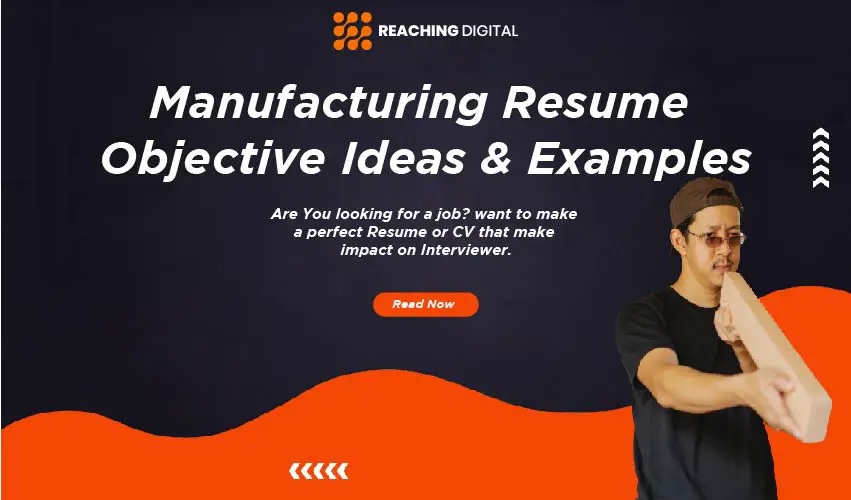 Career Objective for Manufacturing Engineer
Manufacturing managers are constantly on the lookout for talented, creative people to join their company. This blog post is designed to give you a few ideas about how you can stand out from the crowd and make yourself memorable so that your resume will be accepted by manufacturing companies. The best way to write a manufacturing manager's resume objective is by asking yourself what skills, qualities and achievements make up the perfect candidate for this position.
Able to develop, plan and schedule operational project plans for new product releases including cost estimates, development timelines and risk analysis.
An effective communicator who can liaise effectively with vendors, suppliers and internal teams in order to meet deadlines.
Highly-skilled at evaluating products for manufacturing issues, recommending and developing solutions in a timely manner.
A strong communicator who is comfortable presenting in front of groups. Will be able to effectively manage and lead cross-functional teams.
Expert knowledge in CNC Milling and turning machines as well as CAD/CAM software including MasterCam, Vero/Edgecam and Solidworks.
Able to communicate technical information and ideas to colleagues and clients at all levels.
Motivated self-starter with a strong work ethic who is looking for a long-term position in a growing company.
I take great pride in my ability to adapt to any environment by applying myself fully and utilizing my skills, knowledge and abilities to the fullest.
Experience working in a fast-paced factory environment using computers to organize and control manufacturing equipment.
In-depth knowledge of shop math, geometric dimensioning and tolerancing, GD&T, materials science, material properties and machining strategies for metal/plastic/composite components.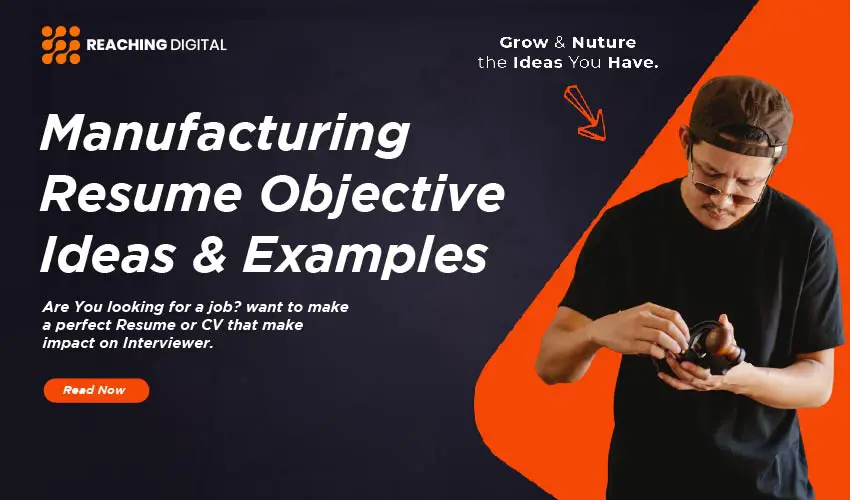 CV Objective for Managers
Your resume objective is the first thing that a potential employer will read about you. It is important that your resume reflects what you can do for them. An effective manufacturing manager's resume objective should be clear, concise and to-the-point. While also highlighting some of your work experience in an effort to show the hiring manager how you would fit into their company.
Expertise in 5-axis CNC milling, water jet cutting and plasma arc cutting.
Experience in planning, scheduling and coordinating manufacturing processes for small run quantities to large production runs.
Able to work flexible hours including weekends/evenings when required to meet deadlines or solve production issues that arise at any time.
Resolve conflict by using emotional intelligence to understand others' perspectives and feelings. Finding common ground, and using persuasive communication to manage the situation.
I am a dedicated team member with the ability to work independently in a fast-paced environment who enjoys learning new skills and technologies.
Exceptional abilities to meet deadlines under pressure, multi tasking and organizing multiple assignments at the same time.
Possess advanced knowledge in team collaboration tools, leadership skills, organizational management and development.
I take great pride in taking ownership for my work and going above and beyond what is required to meet or exceed expectations.
Expertise in creating a variety of machine shop drawings including GD&T, BOMs and process plans.
Responsible for meeting or exceeding production quotas under supervision of management.
Able to handle multiple projects simultaneously while managing own time effectively with strong attention to detail.
Resume Objective for Manufacturing
In order to be successful, it's important to know what your employer wants and needs from you. This can help you determine what kind of resume objective statement will work best when applying for a job at that company. By highlighting your skills and experience in the right way, you could get even more attention from potential employers! Here are some ideas on how to make a great manufacturing resume objective statement.
Highly skilled in utilizing tools such as GoPro video camera , Cyberlink PowerDirector Video Editor. As well as Canon EOS Digital Rebel XS Camera , Microsoft Office, Google Docs and Adobe Photoshop.
I am a motivated self-starter that is looking for a long-term position in a growing company.
My goal is to become a key member of your team by proving my expertise in manufacturing procedures, tooling set-up and manufacturing processes.
Skilled in CAD/CAM technology to generate toolpaths for the manufacture of products using multiple CAM software programs including Mastercam X5, HSMWorks 4.0, Solidedge, ArtCAM and SolidCAM.
I bring extensive experience in CAD/CAM software to create production-ready toolpaths for manufacturing components using CNC milling machines, water jet cutters and plasma arc cutting equipment.
Proven abilities to develop new procedures or programs as well as to perform root cause analysis on manufacturing issues.
Self-motivated with strong time management skills in order to complete tasks within designated timeframe in a high-pressure environment.
I am a dedicated team player that is looking for an opportunity where I can make a difference by using my knowledge, skills and abilities to contribute to the success of your company.
Experience working in the automotive industry to design and develop automotive components.
Objective for Manufacturing
Are you looking for a way to make your manufacturing resume stand out from the rest? This blog post will offer you creative ideas on how to do so. A short career statement at the top of your resume to give employers an idea of what your goals are. Manufacturing positions require creative individuals who can solve problems. Think out-of-the-box, so be sure to mention this in your career statement.
Entrepreneurial Manufacturing Professional with a demonstrated history of working in the
Creative manufacturing field seeking to utilize creative problem-solving skills and experience in support of your goals.
Customer-focused manufacturing professional with a demonstrated history of working in the
Creative manufacturing field seeking to leverage management skills in support of your career.
Proven Manufacturer committed to every production detail, managing inventory and ensuring on-time delivery while displaying outstanding leadership qualities. Highly effective problem solver with a proven track record of success in
Creative manufacturing working to maximize productivity and quality.
A results-driven manufacturing professional who has an extensive history in Creative
Manufacturing with the demonstrated ability to manage staff and stay ahead of deadlines while providing creative solutions.
Proven Technical Manufacturing Manager with an impeccable record of increasing efficiency,
Creative manufacturing and productivity while maintaining quality. A results-driven professional with the experience to improve processes and develop new ideas to grow your business or organization.
Self-motivated Technical Professional with extensive experience in Creative
Manufacturing seeking to utilize planning and organizational skills in support of your career.
A determined Manufacturing Specialist with a history of managing Creative
Manufacturing resources and developing new processes while staying ahead of deadlines. I am looking for a company that will allow me to grow personally and professionally.
Conclusion
I've provided a few examples of creative manufacturing resume objective ideas, but there are many more to choose from. If you need help finding the perfect one for your situation or want some additional guidance on how to write an effective and captivating resume objective statement in general, contact us! You can also check out our blog post about crafting the perfect job application letter for even more tips. We hope this article helped you find inspiration for creating an amazing resume that gets noticed by hiring managers when they review it!