Are you one of those people who hates writing cover letters? You're not alone! In fact, a lot of people feel the same way. But unfortunately, most jobs require them. So what do you do? Well, you could try using a generic cover letter. This is a letter that you can use for any job application. It's simple to write and it's always a good idea to have one on hand just in case. Plus, it will save you time when applying for multiple jobs. Want to learn how to write a generic cover letter?
Keep reading. A generic cover letter can be just the thing you need to get started. This guide will explain everything you need to know about how to write a generic cover letter, including what to include and how to format it. So whether you're applying for your first job or your hundredth, a generic cover letter is a great way to start.
When it comes to job applications, your resume is only one part of the equation. Generic cover letters are an often overlooked (but essential) part of the process. A well-crafted letter can make a big impression on potential employers, and set you apart from the competition.
A cover letter is a document that accompanies your resume and is used to introduce yourself to potential employers. It's important to customize each cover letter to the specific job you are applying for, and to highlight your qualifications and skills. In this blog post, we'll provide some tips on how to write a cover letter, as well as a sample cover letter that you can use as a template. Let's get started. So if you're ready to take your job application process up a notch, keep reading.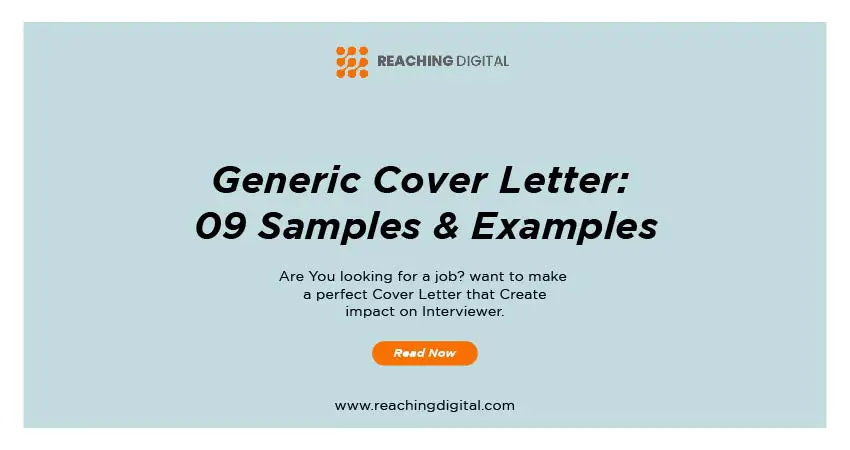 Non Generic Cover Letter
Respected sir,
I am writing to express my interest in the Sales Associate position posted on your website. I believe you will find me an asset to your company and look forward to discussing this opportunity with you. A few of my qualifications are listed below:
Three years of customer service experience with proven success in achieving sales goals
Familiarity with product lines and company procedures
Availability to work varying hours including nights, weekends, and holidays as required
Ability to travel locally for sales meetings
Reliable transportation to ensure on time delivery of goods
I would welcome the chance to discuss my qualifications in greater detail. So, I will call you shortly if there are any changes to my availability. I look forward to meeting soon,
Yours truly,
Your name
Generic Cover Letter pdf
Respected sir,
I am writing to you in connection with the position of "WP Developer" advertised on your website. I am confident that my qualifications and experience meet your expectations and requirements for this job post.
Please find below a cover letter and attached resume detailing our meeting today. Thank you for your consideration and time, rest assured of my absolute confidentiality.
Sincerely,
Your Name
Generic Cover Letter for Resume
Dear sir or madam,
I am writing to you to inquire if your company needs help in ( area you are looking for help ) . I believe that my experience and skills make me an ideal candidate.
For the past ( # of years ) , I have worked as a ( job title ). Additionally, I have participated in several other projects including ( brief description of your other projects ).
My work experience includes: ( list any and all relevant or important information that might be helpful for the position you are applying to ) . I am confident that my skills match those needed for this position. If you would like more information about me, please feel free to contact me at ( phone # ).
I hope to hear from you soon. Thank you for your time and consideration.
Sincerely,
Name
For More: Perfect Cover Letter: 07 Templates & Examples
Generic Cover Letter Template
Dear Manager,
I am writing you today to request information about any open positions available at your company. I recently graduated from Brigham Young University with a bachelor's degree in Business, Management Information Systems with an emphasis in Marketing. While receiving my degree, I was the president of the Sigma Pi fraternity chapter on campus and was involved in the student government association. I received a 3.89 GPA and during my time as an undergraduate, I worked for Dell as a Technical Systems Consultant. I am confident in my skills and experience and believe they would be a good fit for your company.
Sincerely,
Your Name
Generic Cover Letter Examples
Dear Sir/Madam,
I am writing to express my interest in the open position of Customer Service Representative. I have been working as a customer service representative since completing high school. My most recent role was with the call center at City National Bank where I handled inbound customer service calls. The list of my suitable qualifications is as follows:
Excellent team management and leadership abilities
Outstanding planning, communications, and organizational skills
Excellent communicator (both written and verbal) with strong interpersonal skills
Here, I completed my training program within three months and eventually became a trainer for new employees. I have additional experience in retail with Hallmark Cards where I was responsible for filing papers, creating reports, processing mail orders, entering data into the computer, and stocking rooms. I am looking to broaden my experience with outside sales or other administrative positions.
Sincerely,
Your Name
Generic Cover Letter Sample
Dear Hiring Manager,
I was highly impressed by the outline of your company's mission and goals. The opportunity to contribute my experience in a similar environment would be a career redefining moment for me, and I hope to explore this chance with you further. As per your requirements, here is a list of reasons why I'm perfect for the position:
I am highly skilled at _________,
I have a proven track record of __________,
Technical Skills : A+ Certification in Computer Hardware, Proficient with Microsoft Office suite, Dynamic Web Development, Customer Relationship Management, Cloud Computing, Certified Ethical Hacker, etc.
I have been a part of the ABC Inc. family for ___________ years, during which time I have acquired skills in _____________ that would be assets to your company as well.
I understand the duties of this position, and I would like to take on this opportunity. Thank you for your time and consideration.
Sincerely Yours,
XYZ
For More: Part Time Job Cover Letter: 09 Sample Examples
Conclusion
So, have you ever thought about how to make your cover letter more personal? Or maybe you're looking for a new way to start off your application letter? Whatever the case may be, we hope that these tips will help you create a stellar cover letter that stands out from the rest. And if you need some extra help putting everything together, don't hesitate to reach out to us! We would love to assist you in any way possible. Let us know what you think in the comment section below – we can't wait to hear from you.