Do you have a creative career objective for your Ph.D. resume, but also want to pursue your Ph.D.? This blog will guide you through the process of identifying what is most important for you and how to set realistic goals.
It's important to remember that this path may not always be straightforward. But with some research on your desired topic area, commitment to your goal, and an open mind about the best way forward, it can be achieved!
One of the primary goals for doctoral students is to obtain a position in academia after completing their degree. This may be in the form of the tenure track, research or teaching assistant positions, or other academic roles such as department/university administrator.
A career objective for Ph.D. students would be something like "Seeking a tenure track position as an assistant professor at an academic institution." To stand out from the crowd. Consider adding some information about yourself or your research that is relevant to the job description of the positions you are applying for. For example, if you are applying for a position as a research assistant. You might want to say something like "Seeking a full-time or part-time research assistantship position at an academic institution focusing on brain imaging and Alzheimer's disease."
It helps to show that you are serious about your research interests and not just trying to get any position for the sake of getting a Ph.D. However, it's important to keep in mind that the person reading your CV or cover letter may not be familiar with your field or publication record. So it is up to you to convince them that you are qualified for the job!
5 Tips to write good resume objective
it is very important that you choose your career goal when writing your CV and cover letter to reflect the goal you are trying to reach. These 5 tips will help you to choose or write the best career objective for Ph.D. resume
Keep it short, simple and focused.
It should be around three or four sentences long.
Stay positive.
Use the present tense when possible.
Focus on your academic skills rather than research experience, which is more important in an industry setting.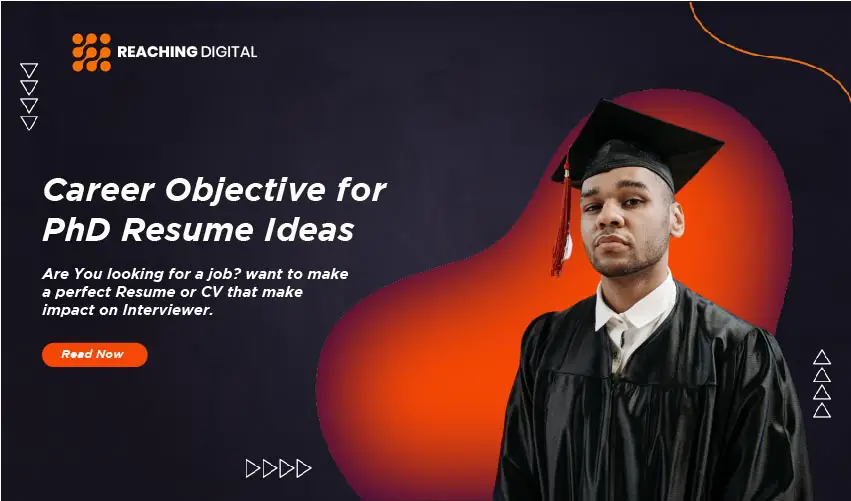 Sample career objective for PhD Application
In addition, you should always be keeping up with the latest publications from individuals working in your desired field so that you can drop their names into your CV or cover letter when appropriate. If you are able to fit in a sentence about how you collaborated with the researcher in question, even better.
This approach of focusing your career objective for Ph.D. resume on the position you are applying for shows that you have not just done research in general. But that you have a more specific focus and are interested in certain types of positions due to your skills or interests.
PhD student looking for a position in scientific publishing that will allow me to keep up with current research in the field of X.
I am a young, creative, and enthusiastic scientist with experience in both academic and industrial settings. Seeking to use my strong technical skills with an emphasis on pharmacology to contribute to your organization's success.
Seeking an assistant professor position that will allow me to focus on developing new treatments for X.
Working as a researcher in hydrology at [company] has given me the experience and tools necessary to contribute to your firm.
I am interested in using my creativity and passion for design with my background in multimedia and web development to help improve your organization's image.
Objective for PhD Resume
The objective should immediately follow the personal information section at the top of the resume. Majority of resumes have a brief objective. However, it is not necessary to have one even if you are going to use other parts such as skills and previous jobs. It is advisable to keep the objective focused and specific to the job for which you are applying.
I am seeking employment which will allow me to use my business administration, marketing and communication skills with an emphasis on social media and user experience design.
Have extensive international experience in customer service and sales, as well as experience with social media platforms. Aspire to use my knowledge of the principles and practices of customer service within an organization. Where I can facilitate positive interaction between customers and employees.
I am seeking a position that allows me to utilize my educational background in biology along with my communication expertise to work as a medical writer and/or editor.
To utilize my education and experience in business administration to contribute to an organization's goal of providing the best customer service possible to their customers for mutual success.
Looking a position within the nonprofit sector, using my education, leadership skills. And ability to facilitate positive change for an organization that is aligned with my values.
CV Objective for PhD Resume
The objective for a Ph.D. resume occurs at the top of the document in bold-faced type. This statement will vary depending on your career goals. But should always be written to highlight what you are looking for in your next position or field of employment.
The objective may include an introductory sentence briefly explaining why you are applying to the particular job. So here are some examples to give you idea that how you can plot your skills in a career objective for Ph.D. resume.
I have interested in a career where I can utilize my marketing and communication skills to promote products and services that will make the world a more sustainable place.
I would like to pursue a career within operations management. Which utilizes my business and organizational skills, as well as my analytical and problem solving abilities.
Seeking a career opportunity that would utilize my multidisciplinary background in the fields of finance, economics, technology, engineering, energy and environment.
I am seeking a challenging position within Sales & Marketing or Management. Where I can utilize my analytical abilities to excel at problem solving and decision-making. I'm currently exploring opportunities with corporations as well as smaller scale startups with fast-paced growth.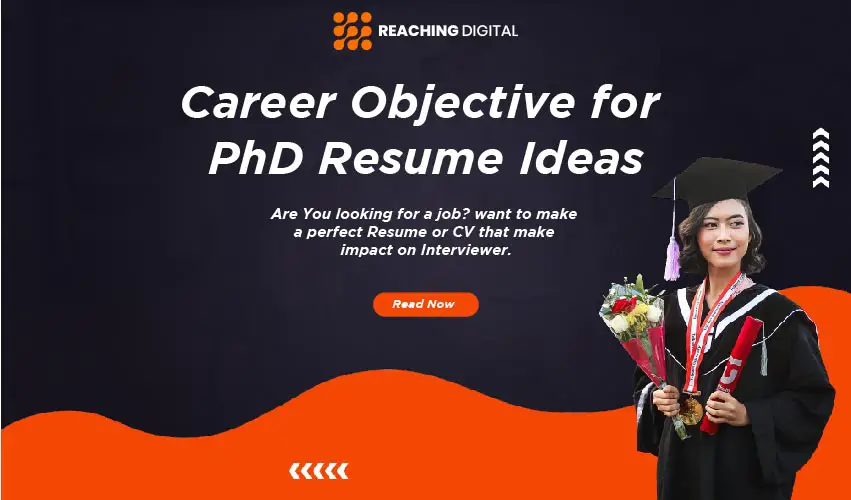 Career Objective for PhD Application
The objective is not an extensive overview of your education or employment history. But should include only the most pertinent information. When writing this section, be sure to list specific career goals; for example, do not write "Rather than work as a science teacher.
I would like a job at a large corporation" because the objective should always be focus on what you hope to achieve rather than your current situation. Below are few examples to give you idea
To utilize the experience I have gained working with international organizations towards gaining a position. Where I can apply my education and training in an entry level capacity.
I am seeking a position within the nonprofit sector. Using my education, leadership skills and ability to facilitate positive change for an organization that is align with my values.
Pursuing an entry-level position in manufacturing or production management. I aspire to use my knowledge of industrial processes, technologies and materials within a company. Specializes in the production of pharmaceuticals, biotechnology products or medical devices.
Have worked in various areas of customer service for over 10 years . Would like further develop my communication, interpersonal and organizational skills for a position in the field of customer service.
CV Objective for PhD Application
When writing your objective it should demonstrate that you have researched the topic before applying and are familiar with current literature on the topic. Make sure you have a good understanding of what is currently known about the topic. Then explain how you will add to this knowledge through original research. You should explain how your degree will help you obtain the skills necessary for the position. Such as computer and statistical experience, etc. Below are few ideas
I am seeking an entrepreneurial role within the travel industry. Where I can utilize my customer care and international relations skills. My previous roles with high-growth startups have provided me with valuable knowledge in this area.
I have interest in exploring the corporate finance field. Where I can use my strong analytical abilities to make informed business decisions
Seeking a research position that will allow me to build on my extensive knowledge and experiences in the fields of pharmaceutical and clinical research.
Developing custom software applications to enhance the day-to-day operations within an organization
Objective in CV for PhD Application
Your career goal should be in line with the position you want to apply for i.e. If you are applying for a teaching assistantship, focus on that. If you are applying for a research assistantship then focus much more heavily on your research interests. And how it benefits the research of the laboratory to which you are applying. Following are some examples
PhD candidate seeking a research-based position in the field of biomedical engineering. Focused on improving efficiency and productivity for organizations through implementation of new technology.
Seeking to contribute my experience in research, computer science, project management, software development, and technical support.
I seek an assistant professor position that will allow me to leverage my background in hydrology and water resources.
I would like to use my extensive research and publications in X field to contribute to your company.
Research-based PhD graduate with the goal of contributing my expertise in cancer biology, gene therapy, and cell culture techniques.
Conclusion
If you're looking for career advice, we hope the information we shared has been helpful. Comment below and let us know if any of these tips have helped you in your job search or what type of help you need with your resume writing process. We are happy to assist! With this article, we hope to have given you some ideas for your resume. If there are any other points you would like us to cover.
Or if you have any questions about what should be included in a career objective for PhD resume. Please comment below and share! We'll do our best to provide more advice on the subject of resumes that will help get your career started off on the right foot.